5 Cool Swimming Pool Facts
Dec 20, 2018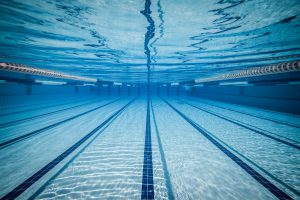 Swimming pools are one of the most popular means of pastime, relaxation, exercise, and of course fun. With swimming pools being so popular, we thought it might be interesting to learn a few fun facts about them and their nature. Next time you hop in the pool with your family and friends, share a few of these cool swimming pool facts!
#1 Pool water is the same if not "healthier" than tap water

While many people think that pool water is full of chemicals or full of germs, they tend to worry a bit whenever they accidentally swallow pool water while swimming. However, one shouldn't worry, as pool water (if balanced and maintained properly) is actually the same, if not healthier, to consume than some tap water.
#2 Swimming is one of the best exercises you can engage in
Did you know that swimming for exercise uses nearly every muscle in your body? This is just one of the reasons why swimming is such amazing exercise. Not only does it burn a ton of calories, but you keep cool while you do it, and it is much easier on your body than typical high-impact workouts, specifically your joints.
#3 The first pool was built over 5,000 years ago
The first pool was built over 5,000 years ago and is known as the Great Bath of Mohenjodaro. It is an inground pool and was constructed out of brick in its entirety. The plaster used was gypsum and the waterproofing was completed via tar membrane. It is thought to have been used for quite different reasons than what you might use your swimming pool in Trophy Club for, rather religious rituals rather than recreation.
#4 The White House has two swimming pools
The White House has two swimming pools, one which is indoor and one which is outdoor. The indoor pool was installed by Franklin D. Roosevelt in 1933 to aid him in his physical therapy for his suffering of polio. Later, in 1975, President Gerald Ford installed an outdoor pool at the White House. The outdoor pool is entered via a tunnel passage that was created for the privacy of the Presidential family.
#5 The largest backyard swimming pool is in Texas
Did you know that the largest outdoor pool in the world is located in Texas? Right outside of Houston, in El Campo, lies Mike Mobley's 600,000+ gallon pool that is over 3 acres in size. The pool has a 500-foot lazy river, 6 waterfalls, and a 21-foot slide.
Turns out pools can be just as fascinating as they are fun, and now you will be able to impress your friends and family at the next pool party with these 5 cool pool facts. If you are looking for a trusted pool builder in Trophy Club to renovate or construct the pool of your dreams, here at Mid City Custom Pools we can help. Discover the joy and entertainment a pool can give you and your family and call us today.