Fire Features
Making the decision to add a fire feature such as a fireplace, fire pit, or fire bowl will help elevate your swimming pool or outdoor living space in ways you could never imagine. Just ask anyone who has already made the leap, fire features turn your backyard into the best outdoor living experience possible. There are numerous different styles, finishes, and other options to choose from when it comes to selecting the right outdoor fireplace for your Southlake, Hurst, or Colleyville home. We understand that it can be overwhelming to try and find the right fireplace for your outdoor room or the best fire feature for your pool, which is why we are here to help. Our team of designers are in place to answer any questions you may have about fire features, helping you decide on the style and size that is best for your yard and lifestyle.
Some of our work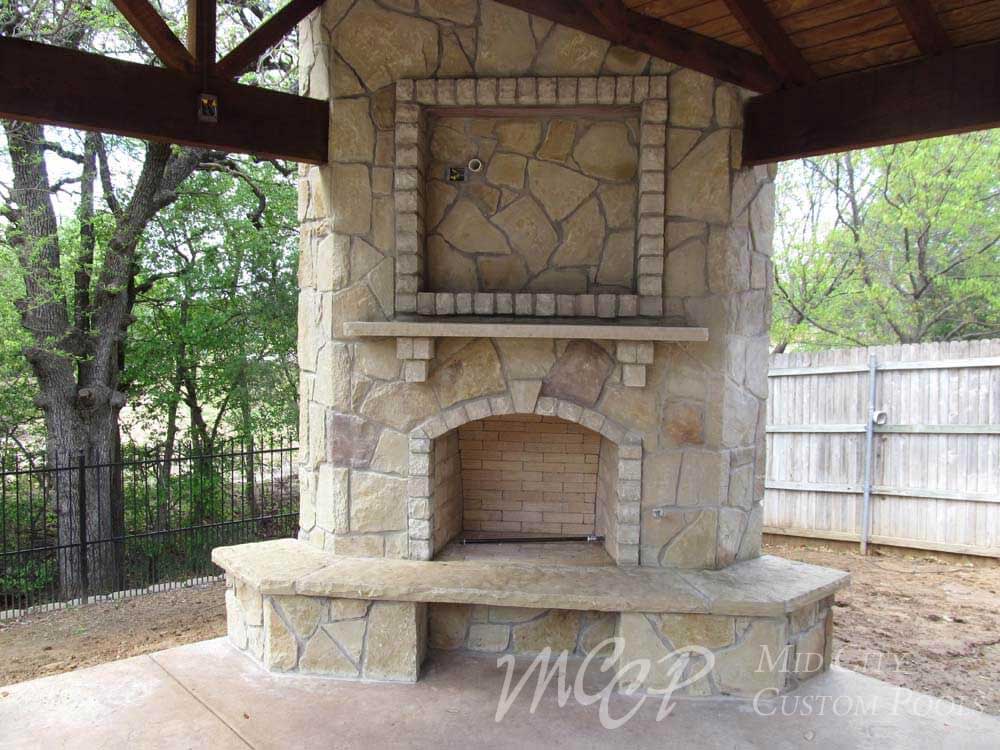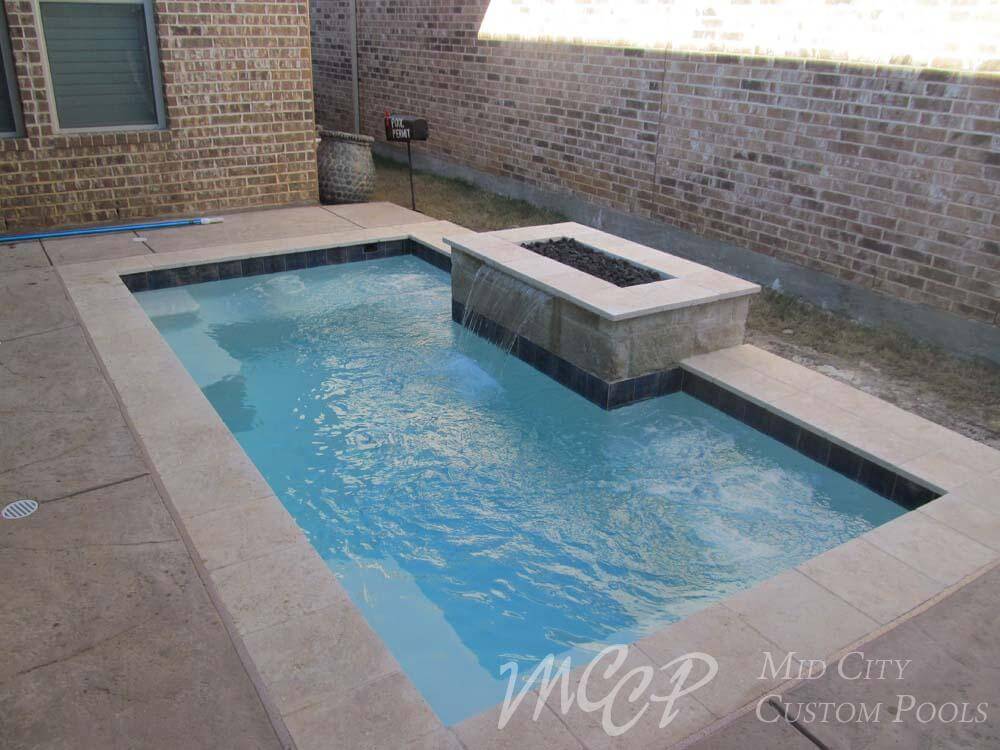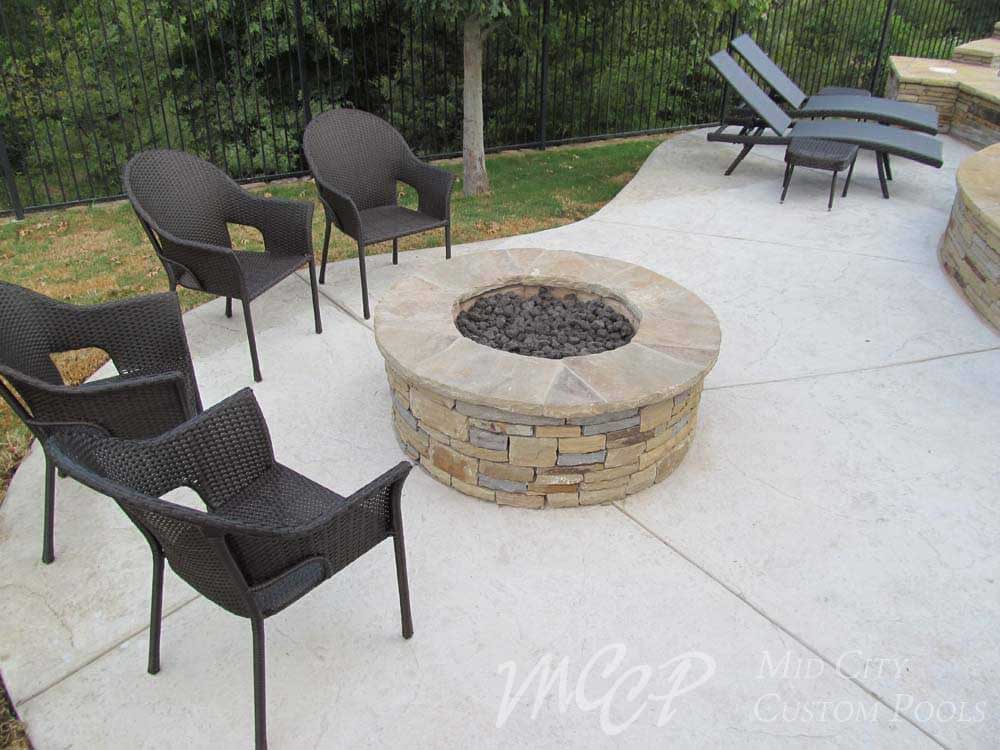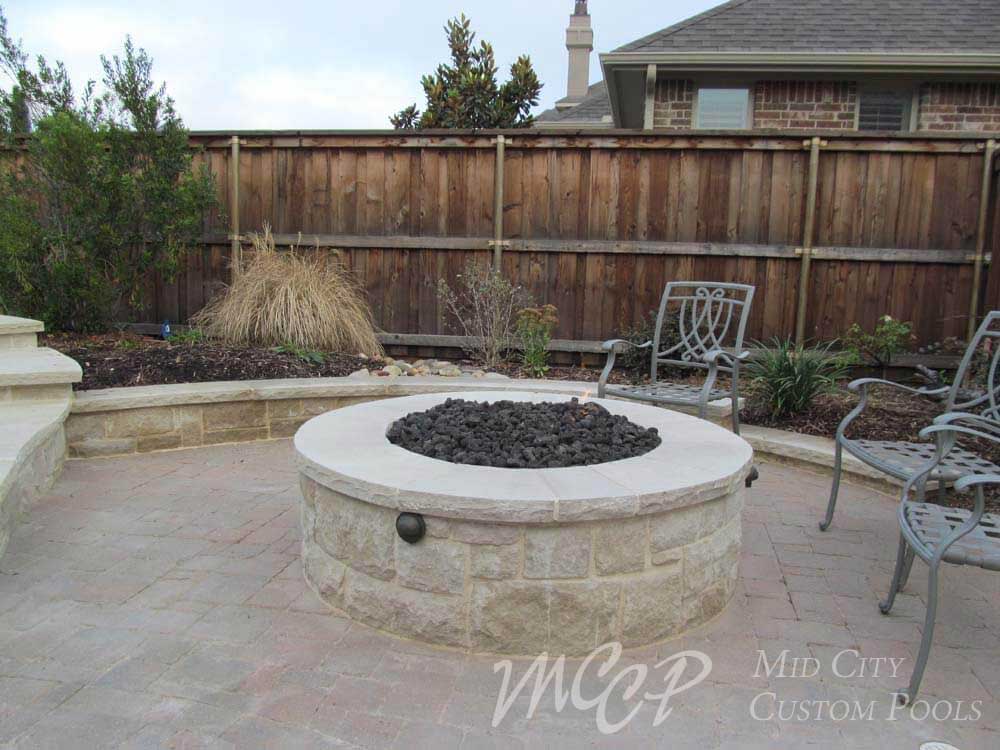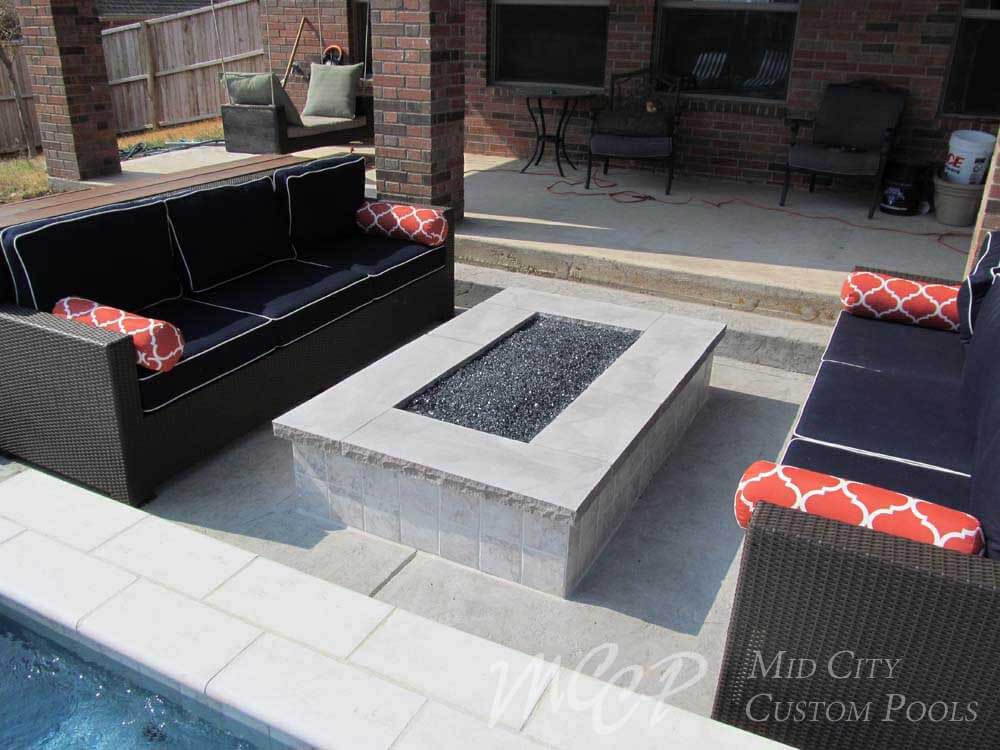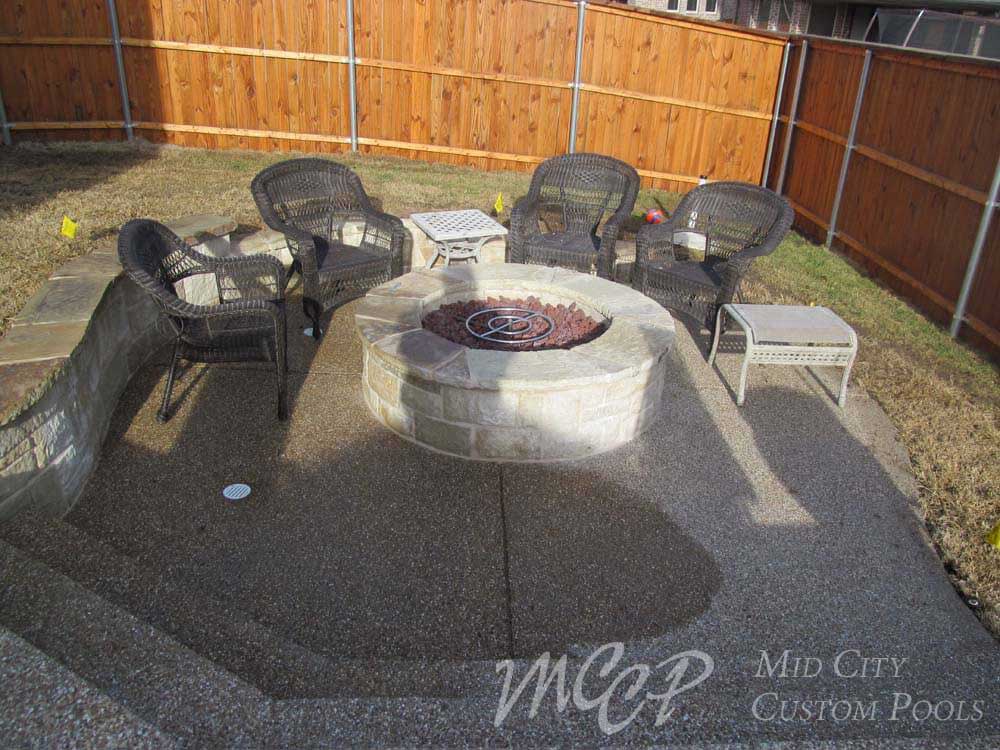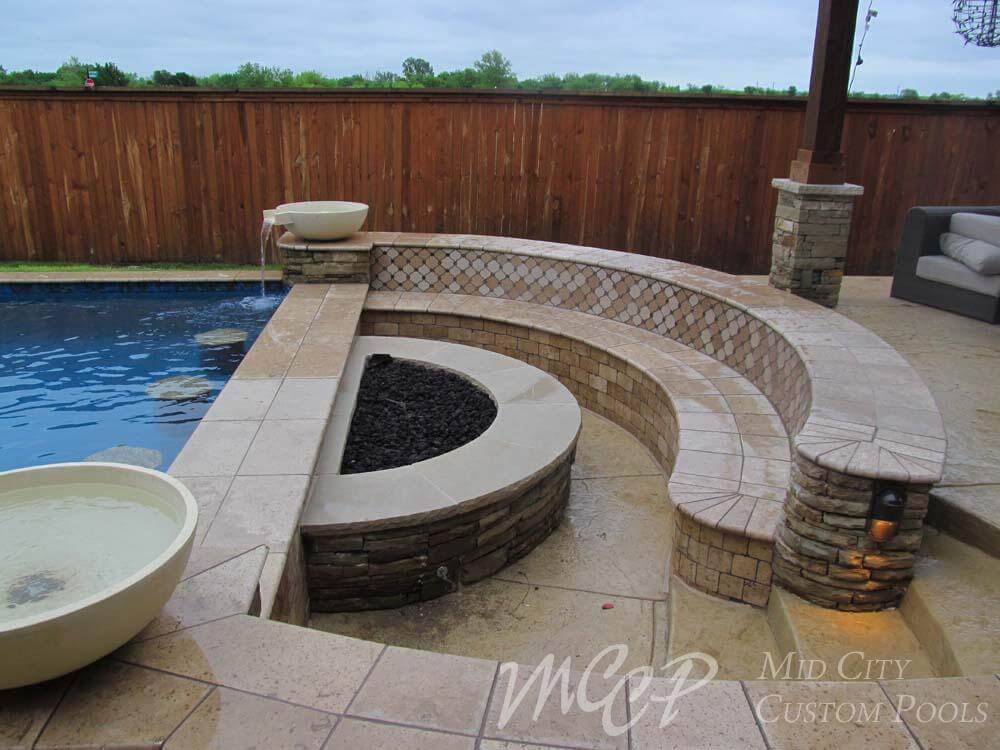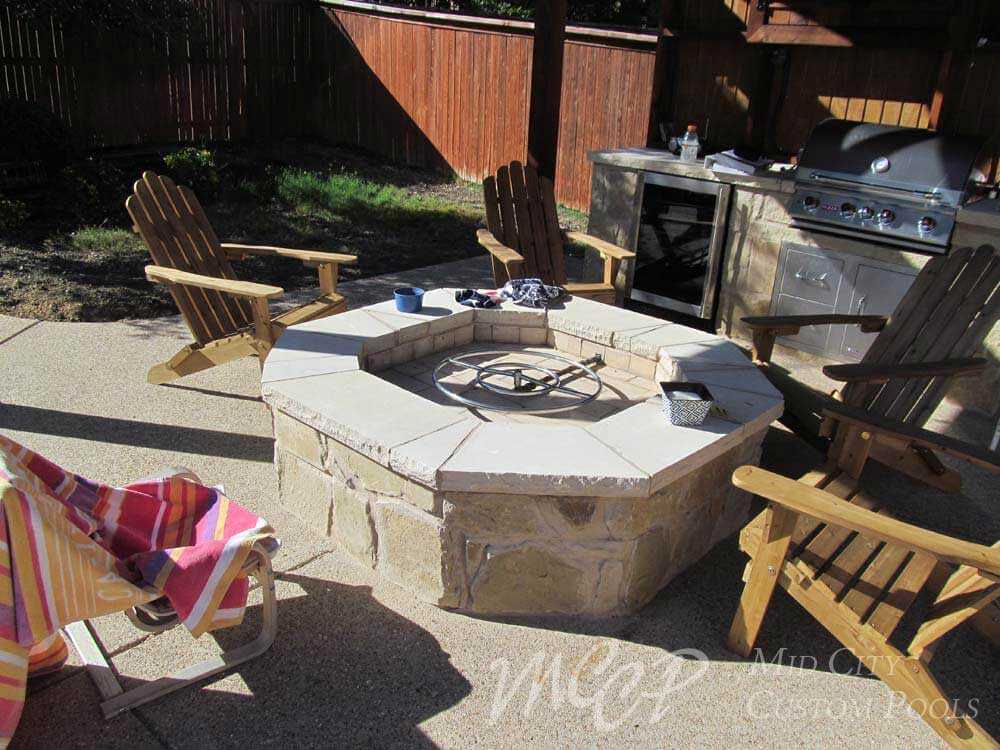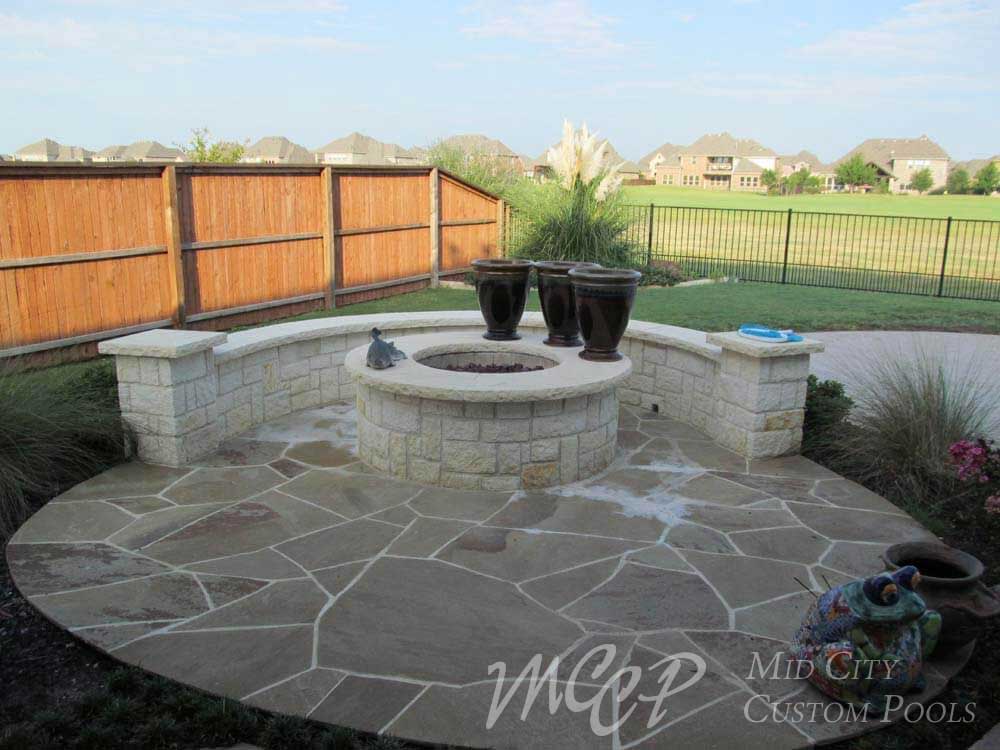 For Your Outdoor Living Space
At Mid City Custom Pools, we are committed to creating fire features that are innovative yet simplistic and multi-functional. Whether you are looking for something more subdued that will keep you warm on cooler nights or are in the market for a fire feature that will wow and impress, we can help. When it comes to fire features for your outdoor living space, there are many different options to choose from. Fire pits and built-in fireplaces are probably the most common, as they both provide a source of heat and are aesthetically interesting. Here is a closer look at some of the most common options for fire features to include within your outdoor living space:
Fire pits

– A fire pit in your outdoor lawn or patio area can serve as a wonderful place for friends and family to gather around and socialize while keeping warm. Fire pits come in a wide range of shapes and sizes and use various materials, such as stone, brick, metal, and other materials.

Fire bowls

– A popular choice for those looking for something contemporary, fire bowls can provide consistent heat and can be powered by gas, lava stones, wood, or even charcoal.

Fire tables

– If you are really looking for something that will impress your guests, you may want to consider adding a fire table. Your guests will be seated around a table with a fire in the middle, which is both fun and functional! Depending on the design you go with, you may be able to incorporate a grill and cook from the center of the table. If you don't want to go all out, simply leave the fire feature as a captivating centerpiece that will keep you and your loved ones warm while you eat.

Fireplace

– Move your fireplace outdoors by having a permanent fire hearth built into your patio or pool area. There are numerous different design options, ranging from a simple design to a more elaborate fireplace.
For Your Custom Pool or Spa
Outdoor living spaces aren't the only area that are ideal for a fire feature – the pool or spa makes for the perfect spot, too! And, you guessed it, there are numerous different options for fire features around (or on) your pool or spa, too:
Fire on water

– If you are really looking to grab the attention of your guests, you can install a fire on water feature. These incredible designs create the illusion of flames dancing on a waterfall as it cascades into your pool. Impressive, right?

Fire fountains

– Fire fountains are an exhilarating and attention-grabbing feature that bring a simple fountain to life when night falls.
Contact Mid City Custom Pools Today
To learn more about the Hurst, Colleyville, and Southlake fire features available in from Mid City Custom Pools, please do not hesitate to contact us today. Our design and build team is here to answer any questions you have and work with you one-on-one to ensure you end up with the customized fire feature of your dreams.