Irving Custom Pool Builders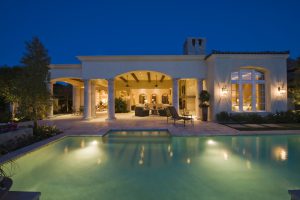 For the last 45 years Mid City Custom Pools has been serving residents throughout Irving. Over these four decades we have worked hard to build a team of knowledgeable and experienced pool technicians and designers that are well-equipped to meet the challenges of our clients. We understand what a large investment a home swimming pool, outdoor kitchen, backyard fire pit, or spa is. We will do everything in our power to make sure the finished project – whatever it may be – exceeds your expectations. Our custom services range from new freeform swimming pools, pool renovations, fire features, custom cabanas and pergolas, spas, and outdoor living spaces. The Irving design experts here at Mid City Custom Pools utilize the latest technologies in order to meet our client's needs. From 3D renderings of what the finished product will look like to high resolution images of your water feature options, we can do it all.
At the core of Mid City Custom Pools you will find a team that values customer experience. As a staple within the Irving community, we have helped countless homeowners transform their backyard living space to one that they have dreamt about. We know what a huge difference a custom swimming pool, fire feature, or outdoor kitchen can make, which is why we are here to help. By offering such a wide range of Irving pool building services, we are guaranteed to meet your needs and help you find that perfect finished product.
From the design process to the construction, we work closely with our clients to ensure no steps are missed. Because a home swimming pool is such an investment and big decision, we make sure our team stays in contact with you throughout the entire process. We want to make sure the finished project is one that is both aesthetically pleasing and luxurious, as well as functional for many years to come!
Our Irving pool builders and engineers have years of experience in pool construction, management, and maintenance, making them the perfect choice for your project. We understand that everyone is different, therefore we are committed to working with you from the design process and beyond. With our experience and commitment to excellent customer service, you are guaranteed to love the finished project.
We have worked with a wide range of clients throughout Irving on everything from custom geometric swimming pools to cabanas, pergolas, and other outdoor living space features. We can truly do it all! We encourage you to contact Mid City Custom Pools today so we can sit down with you and go over some of our work, as well as get a better idea of what you are looking for. We believe in listening closely to our clients and coming up with a design that speaks to that. To learn more about our Irving custom pool services, please do not hesitate to contact us today.