The Benefits of a Fire Feature
Aug 20, 2019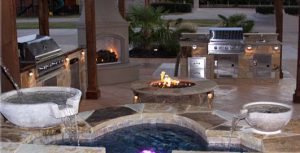 Fire Features Can Extend Your Summer Months
Many homeowners use summer to spend a great deal of time outdoors. The weather is often very favorable to events and get-togethers outside, and there are plenty of benefits to spending time outdoors. However, as the summer winds down, many people are counting the days until they are no longer able to spend time outside anymore. Fortunately, having a fire feature can extend that time for you!
Fire features provide homeowners a chance to continue using their outdoor living space well into the fall and even the winter months. Many people are not too aware of the benefits these outdoor amenities offer their home.
Adds Entertainment Outdoors
While pools offer you a chance to cool off during the hot summer days, fire features allow you to warm up during cool autumn evenings. Adding a fire feature creates the ideal focal point for your backyard landscape. It allows you to create an outdoor living space around this amenity.
With this feature, you can have another perfect excuse to invite people over. It offers you and your guest the perfect spot to relax and converse. People love to gravitate towards fire, so it encourages people to migrate towards this one spot.
Outdoor Cooking
You can't have a get together without food! The perfect thing about many fire features is that they offer you the chance to cook! People love the camping experience without actually camping, which is where these features come in handy.
You can roast marshmallows over the fire pit to make smores. Add hot dogs and kabobs to the mix to have something savory as well. If you have the appropriate accessories, you can even grill over the flames!
Creates Ambiance
Fire features can do something most other backyard amenities can't do, and that is create an ambiance. Fire pits or fireplaces can create a warm and welcoming ambiance that is relaxed and often informal. Whether it's enjoying the warmth of the flames or listening to the crackle of the fire, this ambiance adds to your backyard.
You can use this ambiance to bond with your family by having small family night outs. You can even use it as a charming and intimate setting for a romantic night with your significant other.
Stay Warm During Cool Evenings
While many people may choose to just stay indoors to stay warm, the weather is not always too cold to be outside. If it stays chilly enough, you can relax by the fire to stay warm while also enjoying the outdoors. Adding comfortable couches around the fire will give you a space to stay warm and cozy during the cooler months.
Increases Home Value
This is an incredibly important aspect that many homeowners should know in case they ever plan on selling their home. After you have enjoyed years of use with your fire pit or fireplace, you may feel as if it is time to move or are even forced to move because of a job. Fortunately, fire features increase the value of your home.
According to a report by Realtor.com, residencies with fire pits were given a 25% premium. Not only do these amenities allow you plenty of opportunities for warmth and fun, but they can also help you sell your home.
Even though the summer months are coming to an end, you can still extend the time you can spend outside with the help of fire features. They provide you with warmth and ample chances for entertainment and fun. Contact Mid City Custom Pools to learn how we can use our fire feature expertise to transform your backyard.