Fall is the Time for a Fire Feature
Sep 25, 2017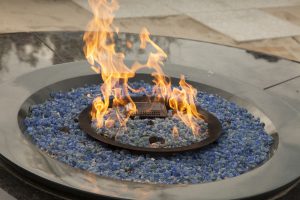 Fall is officially here! Which means cooler temps, changing colors, pumpkin spiced lattes, and a backyard fire feature, of course. These days it seems people are always looking for ways to remain outdoors year-round, and what better way to do this than by adding a fire pit! There are many different directions you can go with this, from a simple, subtle gas fireplace to a more eye-catching fire feature that wows every time. Regardless of where your tastes are leading you, there is no better time than now to turn those fire feature dreams into a reality.
It's safe to say that Fall is a favorite season for many, are we right? Not only do the scorching Texas temps begin to fall, but leaves turn beautiful colors and there is a welcome crisp in the air. When the seasons change many of us take the time to reflect and start on new projects. A common project we have been seeing amongst Southlake homeowners is backyard renovations, complete with a mesmerizing fire feature. Not only do fire pits and other fire features allow you to spend more time enjoying your backyard space, but they add value to your home and give you a place for relaxation and entertaining. Fire features contribute to the overall aesthetics of any outdoor space, turning it into a favorite part of the home. So, why is Fall the perfect time to add a fire feature? Let's take a look:
Sets you up for success – One of the main reasons why NOW is the time to pull the trigger and have a fire feature installed is because it will set you up for the rest of the year. Chances are you won't be using your fire feature quite as much during the sweltering summer months, but in the fall, winter, and even spring, you are sure to get a lot of use out of it. So before the seasons change again and you find yourself behind the curve, look into getting a fire feature installed!
Provides an excuse for entertaining – When the cooler months hit, it is only natural for people to turn inward and become a bit recluse. The best way to fix this? By installing a fire feature, which will then become a hub for spending time with your loved ones. A fire feature is both relaxing and warming, pulling people out of their introverted ways and encouraging group get-togethers.
Endless options – When it comes to adding a fire pit or fire feature to your Hurst home, you have endless options! You can add a wood fireplace that will create a more natural atmosphere in your backyard, or a gas fire pit that is both modern and clean. There are also tons of ways to add bits and pieces of fire, without an actual fire pit, in your backyard.
To learn more about our fire pit and fire feature options, please give Mid City Custom Pools a call today. We are happy to help you get started on this project before we get too deep into Fall, as we want you to be able to enjoy it as the evenings begin to cool!