Stay Cool and Refreshed: Benefits of Owning a Pool During the Summer
Jul 18, 2023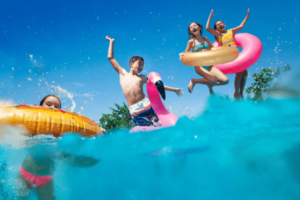 There's no question that your family will love having the luxury of a private, backyard swimming pool. If you are considering this investment in your yard, then take a look at the many benefits of owning a pool to see if you want to move forward with the installation.
What are your motivations for a pool installation? Consider these benefits of owning a pool:
1. Exercise at Home
Swimming is an excellent form of exercise, and you'll love the convenience of having a pool for a backyard workout. There are many ways that swimming can benefit your health because you can boost your heart rate, burn calories, and work on functional fitness at the same time.
One of the reasons why swimming stands out as the exercise of choice for many people is because it is a low-impact exercise that is gentle on your joints. So, if you want to lose weight or maintain a healthy weight, then consider swimming as an alternative to running or other high-impact sports.
2. Relax in Your Backyard
What is your favorite way to wind down in the evening or on the weekends? If you love the idea of floating on a lounger with a cold drink in hand, then a backyard pool can be a great option to consider. Lounge in a pool chair or jump in the water to refresh and de-stress at the same time.
When you are swimming, the water can help to work out tension in your muscles. Additionally, the sunshine and movement can have a positive impact on reducing stress levels and improving your mood at the same time. Swimming is a great way to forget about your troubles for a while and simply relax in the comforts of your backyard.
3. Host Family and Friends
If you enjoy hosting friends and family members for parties and gatherings, then a swimming pool can offer a fun activity for everyone to enjoy. It doesn't matter if you are planning a big party or inviting people over for a casual get-together, the swimming pool can be a center activity that keeps both kids and adults entertained.
Consider the design of the swimming pool as well as other yard features that can be used for hosting. For example, when you are installing a backyard swimming pool, you might also invest in the installation of an outdoor kitchen and patio area. This hosting space will be convenient because you can keep the messes outside instead of having everyone in your home. At the same time, swimming together can be an easy and fun way to make memories with the people that you love.
4. Stay Cool in the Summer Months
When the weather starts heating up during the summer, what is your favorite way to cool down? Instead of sitting inside under the air conditioner, why not go for a dip in the cool swimming pool? Swimming to cool off might even help you reduce your air conditioning bill because you are spending the hottest hours of the day in the cool and refreshing water.
Of course, there are maintenance costs to owning and taking care of a swimming pool, which means that you might not save money overall. But it feels nice to know that you can cool off in the swimming pool instead of cranking up the air conditioner.
5. Boost Your Vitamin D
Vitamin D is critical for overall health and maintaining a good mood. Researchers have suggested that many people are deficient in vitamin D, which means that we need to spend more time outside in the sun. When your skin is exposed to sun, then the body can generate the vitamin D that is needed.
Swimming in the afternoon sun is an excellent way to support your vitamin D levels in a healthy and sustainable way. Just be careful to avoid getting burned! The best solution is to swim before 10am or after 4pm so you can avoid the most intense UV rays in the middle of the day.
6. Raise Confident Swimmers
Parents want to make sure their kids are comfortable and confident in the water. Not only are swimming lessons a good investment, but regular exposure can be an important step to help your kids learn the water skills they need for survival.
Having a backyard swimming pool enables you to practice swimming skills with your kids on a regular basis. Plus, the kids are always happy to get out of the house!
Regardless of your children's swimming skills, make sure you are proactive about minimizing the risk of drowning. Only allow the kids to swim under adult supervision. Also, invest in a quality and durable swimming pool cover to prevent kids from going in accidentally.
7. Save Money on Entertainment
How much money do you typically spend on entertainment and activities during the summer? If you add up the costs of activities, sports, and other adventures, then you might be surprised how much you are spending on these things.
One of the benefits of owning a pool is that you have built-in entertainment at home. Instead of taking the family to a paid swimming pool or recreational facility, you can swim in the backyard for free. These savings can add up, especially if you have a big family.
8. Increase the Value of Your Home
A backyard swimming pool adds a beautiful feature in the yard, and it can also have a positive impact on the value of your property. When you are ready to sell in the future, you will be able to ask for a higher price because of the additional features in the back yard.
Learn About Custom Swimming Pool Installation
Would you like to learn more about the benefits of owning a pool? Then reach out to our team at Mid City Custom Pools to discuss your custom installation. We are happy to answer your questions and provide more information about upgrading your backyard. Schedule a consultation with Mid City Custom Pools at your convenience.