5 Ways Swimming Can Help You Lose Weight This Year
Jan 22, 2019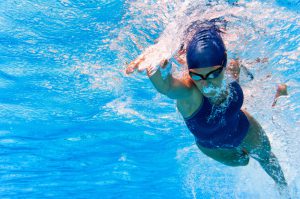 It is officially the year 2019. While it is the beginning of the year, you might have new year's resolutions on your mind. While a large majority of people have health-related resolutions, one of the most popular goals is to lose weight. Did you know that swimming is one of the number one exercises you can engage in?
Swimming has multiple exercise benefits
There are a lot of benefits when it comes to swimming for exercise. Not only is it a cardiovascular workout (good for a healthy heart and burning fat) but it is also great for building lean muscle. Swimming regularly can help to improve your health and reduce your risk of heart disease, stroke, and type 2 diabetes.
Another reason swimming is such a wonderful and healthy exercise is that the buoyancy allows for less impact on your body which means healthy and happy joints. It is highly recommended for those who have disabilities, the elderly, and pregnant women because it is so easy on the body. If you still aren't convinced, keep reading to learn more about how swimming can help you lose weight this year.
#1 Swimming is a full-body workout
Swimming is well-known for being one of the only exercises that uses almost every muscle in your body. It targets all of your major muscle groups and helps create for an excellent figure.
#2 Swimming can help you burn fat
Because swimming is an aerobic/cardiovascular exercise, it helps you burn fat and lose weight. It is great for your heart and your lungs and can help improve circulation and oxygen absorption into the muscles and body.
#3 Swimming can help you improve your strength and muscle tone
Swimming is not only a cardiovascular workout but consists of various resistance movements. These resistance movements can help you improve your strength as well as increase your muscle tone. Increasing your muscle tone not only improves your figure but the more muscle you have the more calories your body burns, therefore again assisting in weight loss.
#4 Swimming helps to improve flexibility
The various strokes and movements involved in swimming help elongate and stretch out your muscles, therefore it is very helpful in improving flexibility.
#5 Swimming regularly can help improve your sleep and boost your mood
Swimming is a healthy exercise and it has been proven over and over again that regular exercise can improve one's sleep as well as boost one's overall mood. The better your sleep and the better your mood, the easier it is to lose weight and have a healthy body and mind.
On top of all the health benefits of swimming, we all know working out in the Texas heat can take a toll on o, another reason why having a swimming pool in Trophy Club this summer is a great option for an outdoor workout alternative. The best news is, if you start on your pool now, you can have it finished just in time for the warmer weather.
If you are busy looking for a trusted pool builder in Trophy Club, here at Mid City Custom Pools, we can help. Turn to our team of experts to help you design and build the pool of your dreams. If you have any questions or would like to schedule a consolation, contact us today.