6 Ideas for Swimming Pool Lighting
Jun 16, 2022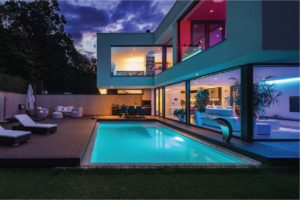 If you want to create the perfect ambiance in the backyard, then consider how swimming pool lighting contributes to the overall experience. Not only is lighting essential to brighten the pool at night. But the right lighting design turns your swimming pool into an oasis that you will love to share with friends and family.
Don't cut corners when you are choosing swimming pool lighting for your backyard design. Investing in good lighting will turn an average swimming pool into a beautiful space! Here are a few things to consider when you are choosing where to place the lighting and what types of lights you would like to use:
1. Lights in the Water
Built-in lights under the surface of the water make it pleasant to swim, regardless of the light in the sky. It's fun to enjoy an afternoon in the sun. At the same time, you will love the relaxing experience of sharing a moonlight swim with bulbs placed beneath the water.
Plus, this type of swimming pool lighting improves safety, especially when young kids are in the pool. If you are swimming at dusk or dark hours, then it's essential to light up the water so you can see what is going on below.
2. Lights Around the Pool
Another way to improve the aesthetic and usability of your swimming pool is to install outdoor lights surrounding the pool. These landscaping features turn your backyard into a beautiful space, giving it a resort-like feeling.
You can adjust the lighting depending on the occasion. When you are hosting a party, outdoor lighting goes a long way to set the mood you want to foster. Consider the overall look and feel that you desire, then place the lights in the ideal locations to match your pathways, patio, and swimming pool.
Not only will you enjoy sharing this beautiful setting during a party, but it's also the perfect touch to plan a romantic evening with your loved one.
3. Colored Light Bulbs
Soft, white bulbs are a classic design to add a little bit of light and highlight other features in the pool and yard. Also, consider switching out the bulbs with different colors if you want to create a different look and feel.
Kids love the adventure of diving into a swimming pool with colored lighting. These bulbs create a festive atmosphere that liven up the mood and make it a memorable party.
Another option is to use different colors to match the seasonal changes throughout the year. If you have a heated pool, then red and green can be a great way to celebrate the Christmas season. Or, consider pink and red for Valentine's Day or red/white/blue for Independence Day.
Finally, light colors can change depending on the event you are hosting. If you are planning a backyard wedding or reception, then the swimming pool lights can be coordinated with the flowers and wedding colors.
4. Invest in Quality Swimming Pool Lighting
"You get what you pay for" is a common phrase in the construction industry, and it holds true when you are installing a swimming pool. Remember that a swimming pool is an investment for your home, giving you built-in entertainment and a place to relax with friends and family.
Make sure you are choosing the ideal materials and lighting so you will be happy with the results. You will have fun in the swimming pool for many years, which is why it makes sense to pick high-quality materials that will last a lifetime.
Additionally, you might consider smart technology to make it easy to manage the lights from anywhere. Landscape lighting can be connected to a remote or smartphone app so you can turn up the lights without getting out of your chair.
5. Create a Theme for Lighting and Landscaping
Consider consulting with a professional landscape designer to get ideas and suggestions for creating a theme in your yard. Instead of placing lights randomly around the swimming pool, it's important to consider the balance and overall aesthetics of the lights you choose and the locations where everything is going.
Be creative! Look online for different ideas and inspirations. Let the designer offer suggestions to match the other features in your yard and around your home. The possibilities are endless, giving you an opportunity to create a truly customized design.
6. Always Hire the Pros
There are many projects that can be done with a DIY approach. If you are repainting a bedroom or cleaning out the garage, then you can save money by doing it yourself. But when it comes to swimming pool installation and putting in swimming pool lighting, it's always best to let the experts handle the work.
Electricity is necessary to connect the lights, and this process can be dangerous when someone doesn't know what they are doing. Careful safety measures must always be followed, especially since the swimming pool lighting is exposed to water. An experienced professional knows exactly what to do (and what not to do) to ensure your family has a safe and comfortable place to spend time together outside.
Your pool installation company will either offer these services from in-house providers. Or, they might have a partner: an electrician to complete all of the wiring and lighting for your swimming pool. Bringing in the experts is an investment you won't regret: you can't put a price tag on the value of safety and protection for your family.
Swimming Pool Lighting to Improve Your Experience
What questions do you have about designing swimming pool lighting for your yard? Our team is here to help with anything that you need! We offer full-service swimming pool design and installation. We work with each homeowner to design the ideal pool and patio, giving you a space that you will love!
Most homeowners don't realize how much of a difference it makes to have good swimming pool lighting! Once you install these features, you'll wonder how you ever lived without them.
When you are ready for more information, contact us at Mid City Custom Pools to schedule a consultation.