10 Things to Know Before Designing a Pool
Jul 12, 2022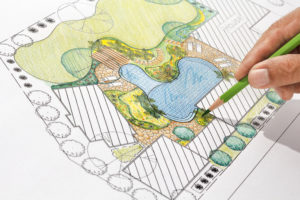 It's so much fun to dream about carelessly floating around in a beautiful pool in the comfort of your backyard. Dreaming about it is one thing. Actually, taking the plunge is a whole other ballgame. Before designing a pool, what do you need to know?
When you decide it's time to move forward with your very own pool, there are a few things that you should think about and consider. Before designing a pool, let's look at some of the key things to know. You may have already considered some of these things. Others might be new ideas to which you should pay attention.
Before Designing a Pool
Here are a few key things to know before designing the pool of your dreams.
1. Will a pool fit in the space you want to place it?
You might have an idea of where you want your new pool to be. But what you should really look at is not only the space but also the slope of your yard. A pool professional can help you know if it's even possible to put a pool in the area you want to. They can also help you configure the best pool shape for your yard.
2. Your pool size matters.
Of course, the size of your pool will depend on your space and your budget. But you should know that there are zoning restrictions to consider as well. Your pool contractor can help guide you on the special zoning that you need to be aware of before and during your pool build.
3. Consider your budget.
One of the first things you've probably thought about before designing a pool is how much you're willing to spend on it. A professional can take your budget and tell you what kind of pool you would be able to afford. While pools can be expensive, many options will most likely fit into your budget.
4. What type of pool is best?
Before designing a pool, you must do your homework and speak to several pool professionals to get their opinion on what's best for your family, space, and budget.
Materials like concrete, fiberglass, or vinyl are all options for a great pool design and build. Make sure your pool contractor knows all the features you want your pool to have from the beginning. It could make a big difference as to what material should be used.
Don't forget the cleaning systems, filters, and more. There are all kinds of choices you need to make as you design and build your swimming pool.
5. How's the weather in your town?
If you live in a region with mild seasonal changes, you will be able to use your pool much longer than those with harsher conditions. If you live somewhere with colder winters, you may want to think about enclosing your pool so that you can use it longer each year. Even in milder climates, a covered pool can protect you from the elements and keep your pool clean from leaves and trash.
6. Think about how you will be using your pool.
Will you entertain large groups of people in your backyard and pool, or will it be primarily used just for your family? Do you need to build a large deck space, or is a bigger pool more important? Considering how your pool will be used and who will use your area will give you a good idea of how to design it best.
7. What will your pool look like?
Some people want their swimming pool to nicely blend into their backyard space and add a soft touch of ambiance. Others want their pool to make a statement. They want it to be the first thing you see when you walk in the backyard.
What do you want yours to be like? This is the fun part! You can add whatever character you want. Add that artistic flair you've wanted. Style it with beautiful tile or quartz. There are all kinds of options!
8. Are there any special features you want to add to your pool design?
Think about how you want to enter your pool. Do you want it to start shallow like a beach and then move deeper? Do you want to add a bench or area to place your chairs in the pool? What about a basketball hoop? The possibilities are endless.
9. How will you be maintaining your pool?
This is the part people often forget or at least try to forget. Pools require regular maintenance to ensure they're working at their best. You can achieve this through filtration, hydraulic systems, pumps, chlorination, and more. Talk to your contractor for the most updated cleaning systems and the best way to care for your pool.
10. Draw out the pool design you want
Your pool designer will be able to immediately see and know what you want your pool to look like if they have a drawing. Even cutting out pictures from a magazine or printing images from the internet can be helpful.
Choose a Pool Contractor You Trust
When you're ready to make a swimming pool a reality, finding a pool contractor you can trust and count on can be tricky. Talk with your friends and neighbors that have recently installed a pool for recommendations of a contractor that did good work for them. Speak with several different pool specialists and ask for references for past work that has been completed.
A pool is a big investment, so it's worth taking the time to find a contractor that cares about the work they do. Mid City Pools is a name you can trust for your pool design and installation. Customers have been seeking our pool construction know-how since 1973, and we are ready to make great things happen for you too. To schedule a free consultation before designing a pool or to speak with one of our pool experts, contact Mid City Custom Pools today.