5 Reasons Why You Should Build a Pool in the Fall!
Oct 25, 2017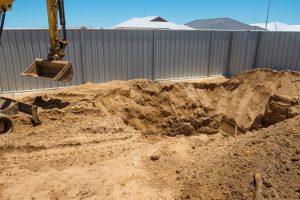 Making the decision to have your home swimming pool built in the fall is a smart one, for numerous reasons. Not only will undergoing this project during the fall mean the cool water is ready and waiting for you come spring, but cooler outside temperatures equals less mistakes made during construction. While many people may think the warm summer months are a good time of year to start this type of project, the hot temperatures can actually lead to more mistakes, and make the project take a lot longer. Building during off-peak time gives workers the opportunity to spend a lot longer on a project, which is good news for you! Not only will they be able to give your project their undivided attention, but the whole project will benefit from the time of year.
We have found that clients and workers alike are more laid back during the fall and winter months, which makes a project of this scope much more enjoyable for everyone involved. Why is this? Namely because homeowners know they won't be able to use their pool until next spring, which means they allow us to do what we do best, without all the pressure. Here at Mid City Custom Pools, we believe in quality over quantity and doing everything we can to ensure our clients end up with a final project they will love and enjoy for many years to come.
Top Advantages of Having Your Pool Built Now
The fall months are the ideal time of year to have a pool built because you can pretty much guarantee there will be less delays due to weather. Sure, the weather is always unpredictable, but we do have a better handle on what to expect during autumn. With that in mind, here are five reasons why you should build a pool this time of year:
Permits are easier to obtain
Inspectors aren't quite as busy to review all the work that is being done to your property. This is a win-win for everyone!
Pool builders are typically far less busy toward the end of the year, which means they may be more inclined to keep bids as low as possible.
Here at Mid City Custom Pools, we offer a 10% discount off the entire project during the fall and winter months. This is a huge savings that will benefit you in the long run.
You will have our undivided attention! Fall is a great time of year to build a pool because we aren't as busy, which means more time spent on your project
We know how important it is for you to have a beautiful, custom pool installed in your Texas backyard before the hot weather hits again, which is why we want to make things a little easier on you. By embarking on a pool project right now, we will have upwards of 6 months to complete the project before you really want to use it come spring. This will allow us to focus on all the small details that matter most, leaving you with a stunning oasis in the comforts of your backyard.
Do you have questions about our pool building services or would like to schedule a consultation? If so, give Mid City Custom Pools a call today! We are here to answer any questions you may have and help you build the pool of your dreams.