Do I Need a Pool Cover for the Fall?
Oct 18, 2017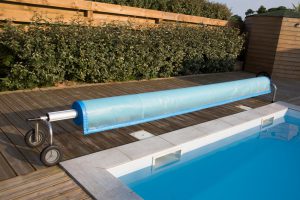 One of the common questions we get this time of year is, "do I need a pool cover for the fall?" To get straight to the point, the answer is yes. Pool covers are absolutely necessary this time of year, regardless of where you live. As the leaves begin to fall off trees and float in the air, the last thing you want is to put your pool in danger. Leaves, dirt, and other debris can wreak havoc on your pool, resulting in more maintenance – and money spent – for you. While pool covers may seem kind of expensive, giving you pause for thought, the fact of the matter is they are a must. Whether or not you decided to keep your pool open year-round, do yourself a favor and invest in a reliable pool cover.
There are pool covers for every budget and designed for all different purposes. If you are looking for just as basic pool cover that will get the job done, you can certainly go with one of the more rudimentary options. If you are someone who likes to splurge and really wants to ensure your pool is protected this winter and all year, consider a higher-end pool cover. No matter which direction you choose to go, your pool will be much happier with a nice cover.
Why Pool Covers Are a Must
 Pool covers come in all different shapes and sizes, from the basic model you simply roll out over the pool to automatic covers and covers you could even drive a car across. If you aren't sure which would be best for your particular needs (and budget), give Mid City Custom Pools a call. We are here to help you find what will work best for you and are happy to answer any questions you may have.
So now that you know having a pool cover is a must this fall and winter, let's look at why. In addition to keeping leaves, dirt, muck, and other debris out of the pool during the off-season, a pool cover will also help keep chemicals in the pool balanced and work to prevent evaporation. If you are choosing to keep your pool open this winter (as opposed to draining and winterizing it) making sure you have a good, solid pool cover that will protect your water is very important.
As mentioned, there are tons of different types of pool covers available, including:
Solar covers
On track vinyl covers
Leaf covers
Rolling polycarbonate panels
Tarp pool cover
Safety pool cover
To learn more about our various pool cover offerings or to schedule a consultation with one of our technicians, please do not hesitate to contact Mid City Custom Pools.