9 Ideas for Making a Backyard Pool a Party Destination
Feb 16, 2021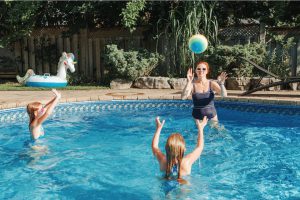 A backyard pool creates the ideal space for gathering with friends and family. You can invite people over and enjoy the outdoor living space. The swimming pool provides both entertainment and opportunities for relaxation, depending on the type of event you are hosting.
The installation of a swimming pool is just the first step to create a backyard party destination. Often, the pool serves as the center of attention in the yard, with other landscaping and design features to make the overall ambiance.
Here are a few ideas if you want to up-level your backyard pool and create the perfect outdoor living space:
Idea #1: Invest in a Quality Deck or Patio
Even though people are coming to spend time in the pool, the area surrounding the swimming pool is just as important. The patio or deck is where friends and family hang out when they want to spend time out of the water.
Not only is the deck area functional, but it also adds to the overall style of your pool area. Pick materials that are both durable and aesthetically-pleasing. Installing a quality patio area is an excellent investment for your home.
Idea #2: Add a Bit of Shade
It's fun to lounge in the sun, but everyone needs a little break during the hottest parts of the day. Adding a shade structure makes the area more comfortable for all visitors. For example, if you invite grandma over for a pool party, it's nice to have a shaded area where she can participate.
Add a permanent shade structure on the side of the pool, such as a pergola or standalone cover. Or, you might choose a versatile option, such as shade sails or a removable shade canopy.
Idea #3: Pick Out Comfortable, Stylish Furniture
Where are people going to sit when they are at your party? It's time to pick out pool chairs and loungers! If you have the budget, then select luxurious pool chairs that are both comfortable and stylish. People will spend hours at your pool party when they have a nice, comfortable place to relax.
Make sure to select products for outdoor use. For example, all-weather pool chairs will hold up better than cheaper alternatives. Also, remember that the backyard pool furniture will have sun exposure throughout the year. So, invest in durable materials to ensure your new purchase will last for years.
Idea #4: Find the Best Pool Toys
Both kids and grownups love the entertainment that comes from pool floats in the water. Pick a variety of pool toys with options for the kids to jump on or a place to relax with a drink in hand. Visit a nearby retail store, and you'll find pool floats with a variety of designs, shaped like swans, dog bones, pizza slices, or alligators.
In addition to the oversized pool toys, also consider the smaller items for entertainment. For example, water rings are great for diving and swimming games. Another option is to have a bucket full of water guns for the kids.
Idea #5: Water Safety Equipment
When everyone shows up for a pool party, you need to make sure safety is the highest priority. While most parents will bring floatation devices, it can be helpful to have a few extras on hand. Purchase life jackets of various sizes, as well as children's safety products.
Even if the pool is shallow, it can still be dangerous when children don't have the right equipment. It's worth the investment to ensure that plenty of flotation options are available for the group.
Idea #6: Outdoor Kitchen or Bar
The best parties always center around food and drinks. What do you like to serve when people come over to swim? It doesn't matter if you prefer potluck style or you are cooking a gourmet meal. You need outdoor hosting space to display the food.
This area can be as simple as a small bar with a sink and built-in fridge. However, if you love to cook, then you might splurge on a complete outdoor kitchen. The features for your kitchen can include everything from a sink to a grill, countertops, built-in seating, and more.
Idea #7: Light Up the Party
Even though most pool parties happen in the heat of the sun, it's enjoyable to have the option for evening hosting as well. Don't cut corners on the lighting! Install quality pool lights to make it a fun place to swim in the dark. Also, choose deck lights that create the ideal ambiance on a warm summer evening.
Luxurious outdoor living areas include built-in lighting on the deck and pool covers. Or, you can set up temporary lighting with hanging lights and lanterns. Look on Pinterest and other design websites for ideas.
Idea #8: Matching Towels and Linens
One simple way to make your backyard pool feel like a high-end resort is by stocking your cupboard with luxurious, fluffy towels. People will inevitably need extra towels when they come for a pool party. You can add an extra touch of elegance with dedicated pool towels.
Make sure your outdoor towels are oversized and soft. Choose a consistent color to create the theme you want to enjoy. For example, you might choose all white towels for a luxurious touch. Or, find striped resort-style towels, similar to what you would see at an all-inclusive getaway.
Idea #9: Backyard Games
When everyone is feeling water-logged, do you have other entertainment options in the backyard? Make sure to plan activities both in and out of the water. Popular backyard games include bean bag tossing, beer ping, kickballs, a swing set, and a trampoline.
Consider the most common age groups you are planning to host. Then, pick the activities that your friends and family will enjoy.


Investing in a backyard pool is a great way to create the ideal outdoor living space for your family. If you are ready to host the best pool parties, talk to us about your options to install a pool and surrounding features. Mid City Custom Pools offers personalized solutions and high-quality results for every project.