Take a Pool to the Next Level by Adding a Poolside Shade Structure
Mar 13, 2021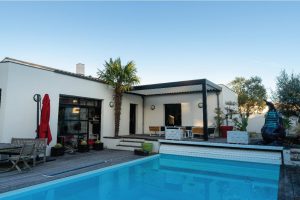 Nothing beats the satisfaction that comes from a relaxing, fun day in the pool on a hot summer day. It's the perfect time to create family memories and enjoy the beautiful weather. But, while it's nice to bask in the sunshine, also make sure you have shade available during the heat of the afternoon. A poolside shade structure is a perfect solution.
In addition to the installation of your swimming pool, it's just as important to consider the surrounding patio layout. This area is where friends and family relax and spend time. Set out lounge chairs, fire up the grill, and turn on your favorite music to set the tone. Many people like to have a bit of shade so they can find respite during the hottest hours of the day.
This is where a poolside shade structure is essential. A variety of designs and options are available to create the ideal cover for your outdoor living space. Talk to our team at Mid City Custom Pools to learn more about the multiple solutions for customizing your shade structure.
Shade Structure: Function and Style Combined
For more homeowners, the desire to install an outdoor shade structure is because of the functional benefits. You want to spend hours outside during the day without worrying about sunburn or heat exhaustion.
A shade structure gives you a comfortable place to spend time between dips in the pool. You can bring the kids outside without slathering on sunblock since everyone can sit in the shade.
At the same time, the right shade structure design is also a great way to add a bit of style to your yard. The decorative features look great with other landscaping designs in the area. Our skilled designers can help you select the ideal materials and styles to create a beautiful, luxurious yard.
Benefits of a Poolside Shade Structure
Is it worth the investment to install a poolside shade structure in your yard? Here are some of the benefits you can expect when you add this structure to your pool area:
Solar Protection: A bit of sun exposure is vital to boost vitamin D levels naturally. But too much sun can be dangerous to your health and lead to issues like skin cancer. A shade structure adds a layer of protection against the intense UV rays coming from the sun. Also, it's easier to manage the time you are exposed to the sun when you have a comfortable, shady place to spend the afternoon.
Pool Operating Costs: Some homeowners install a shade structure to cover part or all of the swimming pool. This layout minimizes sun exposure on the water. As a result, you can reduce pool maintenance costs. In addition, covering the pool reduces evaporation and reduces the amount of chemicals needed.
Easy Cleaning: It takes more work to keep the pool clean when debris is always floating in the water. These issues are easier to avoid by adding a shade structure as an extra layer of protection against falling debris. For example, a shade canopy can minimize the leaves falling into the water from a nearby tree. As a result, you'll spend less time fishing leaves and debris out of the pool.
Pool Structure Protection: Even when you invest in high-quality materials, the beating rays of the sun can take a toll over time. Add a poolside shade structure, and it will reduce the sun's damage to your patio and/or swimming pool. This sun protection also limits the damage to outdoor furniture. You'll save money over time since you don't have to worry about any maintenance costs or repairs.
Aesthetic Appeal: If you want to upgrade the yard's overall appearance, then a poolside shade structure can be part of the design. These aesthetic details are attractive and pleasing to the eye. You'll be surprised to see how much of a difference it makes to add a stylish shade covering near the pool.
Personal Privacy: How close are your nearby neighbors? If someone is on their deck, they might be able to see into your yard. If you want a little more privacy, then consider adding a covered area near the pool. This structure allows you to spend time outside without feeling like the neighbors are watching.
Property Value: Upgrades to the swimming pool, landscaping, and other features will positively impact the value of your home. Talk to a real estate agent to see how much your home price will increase depending on the type of shade structure you install.
Types of Shade Structures
When you are ready to install poolside shade, the next step is to pick the style you prefer. Choose from basic, collapsible shade coverings for temporary events. Or, invest in durable, permanent shade solutions to upgrade your outdoor area and increase the value of your home.
Popular types of shade structures include:
Shade Sails: This modern design with unique angles and full coverage is versatile. But with shade sails, you might need multiple shades to cover the area since they give inconsistent shade.
Pergolas: This solid structure is a covered awning that creates a visual style. Install the pergola over the swimming pool or nearby to cover the patio.
Retractable Canopy: Do you want the option to cover or uncover the pool area? A retractable shade canopy is easy to adjust with the touch of a button.
Umbrella: A poolside umbrella is one of the cheapest, most straightforward ways to add a little bit of shade. You can use freestanding umbrellas. Or, choose an outdoor dining set that includes an umbrella with the table.
Pool and Patio Design – Your Way
There isn't a right or wrong way to design your outdoor living area. The best thing you can do is consider your family's unique needs and preferences. Then, talk to our design team to learn more about available features and styles for your swimming pool area. We offer full-service installation and maintenance services for residential swimming pools. Contact Mid City Custom Pools to schedule a consultation.