9 Reasons to Invest in a Pool Cover
May 16, 2021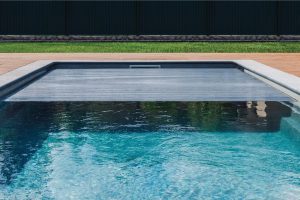 A pool cover offers one of the simplest solutions for saving money on maintenance and preventing damage. Do you have a good cover for your pool? If not, then it's time to invest in something that protects the pool throughout the year.
Are you trying to decide whether a pool cover is right for you? Here are a few reasons why you should install this feature on your home pool:
1. A Pool Cover Minimizes Evaporation
When the weather heats up, the sun and hot temperatures increase evaporation from the pool. If the pool is uncovered, then it means that you are losing water at a faster rate than average. Placing a pool cover over the water minimizes excess heat on the water. Additionally, the cover traps moisture to help you avoid evaporation. This benefit is vital for homeowners who are worried about water conservation. The result: a lower water bill because you don't have to refill the pool as often.
2. Water Temperature Management
How much are you spending on the utility bill to manage the temperature of the water? In the cooler months, your electricity is heating the water. In the summer, you might want to cool things down a bit. This type of climate control is easier to manage when a pool cover is in place. Covering the pool reduces heat loss when the outdoor temperatures drop at night.
3. A Pool Cover Can Reduce Debris in the Water
It takes time and effort to clean bugs, leaves, and other debris that collect in the water. How often do you need to clean the pool to remove these things? Not only is the debris unsightly, but it can increase the risk of algae in the pool. Leaving debris in the water also affects the chemical balance. A pool cover reduces the debris that you need to clean up for maintenance.
4. Pool Covers Help Avoid Water Runoff
One thing that brings debris into the water is the runoff that happens when it rains or the sprinklers are running. Water from the deck pours into the pool, carrying dirt and grime with it – creating unhygienic conditions for swimming. Similar to keeping leaves out of the pool, a cover also minimizes runoff water and soil.
5. Water Quality and Maintenance
As a pool owner, you have the responsibility for ensuring the safety and health of the water. Chemical treatments help restore the water. But it's harder to maintain the correct levels when water evaporates quickly, and you are battling debris. Prevent these issues by keeping the pool covered when you aren't using it. As a result, you can enjoy the pool instead of spending so much time on maintenance and upkeep.
6. Pool Covers Reduce Chemical Usage
Chemicals are necessary for cleanliness and maintaining the proper pH balance. But some people are sensitive to chemical exposure, making it uncomfortable to swim. If you prefer lower chemical usage, then use a pool cover regularly. In fact, pool covers reduce chemical usage by 35% – 60%.
7. Water Safety
A backyard swimming pool is an excellent place for entertainment. But you also have to worry about safety concerns when children are around. A swimming pool is a dangerous place if a child falls in the water unattended. Children are curious about water because of the fun times with the family. Or, they might accidentally fall in when playing nearby. Always use a cover between pool parties to prevent the risk of a toddler or child slipping in. The cover will give you peace of mind throughout the day.
8. Pool Covers Can Keep Animals Out
Not only do you want to prevent children from being in the pool unattended, but it's also essential to keep animals out of the water. So whether you have dogs in the yard or you want to keep rodents and squirrels away, a pool cover is essential.
9. A Pool Cover Can Save You Money
The small savings add up over time! Even though you will spend money on installing a pool cover, it can quickly pay for itself when you consider the savings going forward. A good cover reduces water heating bills, decreases your energy costs, and minimizes the money you spend on water treatment chemicals.
Types of Pool Covers
What is the best type of cover for your pool? Our pro team at Mid City Custom Pools offers hands-on support to help you learn about your options. Schedule a consultation, and we will explain the different types of pool covers you might consider. Popular options include:
Thermal Covers: A pool cover with a bit of insulation. The main benefits of this extra feature are water temperature management and reducing evaporation.
Safety Covers: If you are worried about the dangers of children near the pool unattended, then you can't put a price on the benefits of having a safety cover. These covers come with specific features to prevent children from falling in and getting hurt. In addition, many safety covers offer other benefits, such as keeping debris out and insulating the water.
Solar Pool Covers: Specialized covers can absorb the sun's rays to increase the water temperature without electricity. It's a lighter weight cover that helps you maintain a comfortable temperature when you are ready to get in the water.
Automatic Covers: Automation makes it easy to cover or uncover the pool when needed. This built-in feature allows you to move the pool cover with the touch of a button. Parallel tracks are on both sides of the pool, with a rod at the end to wrap up the cover when you open the pool.
Invest in a Quality Pool Cover
Do you need a new pool cover? If you don't know where to start, then our team is here to offer personalized recommendations. We provide full-service pool solutions for our customers, including quality products and top-notch installation services.
In addition to pool covers, we can also help with maintenance, installation, pergolas, spas, and more. For more information, contact us at Mid City Custom Pools today to discuss your needs.