8 Tips for Deciding on the Shape and Size of a Residential Pool
Apr 16, 2021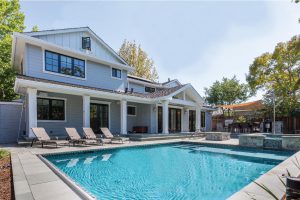 Planning a backyard pool is an exciting step for your family! You've always wanted an oasis to gather with your loved ones. This residential pool gives you the perfect outdoor hosting area to share with friends and neighbors.
Deciding that you are going to invest in a residential pool is just the first step. It takes a bit of work and planning to finalize the ideal design that will look great in your yard. Look at pictures online, then talk to our pro team at Mid City Custom Pools. We offer personalized services to help you create the ideal layout for your new swimming pool.
Continue reading for more information about choosing the shape and size of your residential pool.
Tip #1: Identify Your Purpose
Why are you installing a pool in the yard? It might seem like a simple question, but you need to understand the main motivations to ensure the pool meets your needs. First, review how you are planning to use the pool so you can decide on the best size for your yard.
For example, if the pool is mainly for recreational use, most homeowners want a shallow end and a deep end. The shallow water is perfect for children, with a diving board or slide at the end of the deeper area.
On the other hand, if you plan to swim laps, choose a design that is at least 30 feet in length. Competitive swimmers often prefer at least 40 feet. A rectangular shape is best for exercise.
Tip #2: How Many People?
How many people at a time will be using the swimming pool? It's common for a residential pool to be 18 x 36 feet for larger families or 16 x 32 feet if you usually have smaller groups. The standard shape for pools is square, although you might consider other forms for aesthetic reasons.
In a tiny backyard, you might need a relaxation pool that's a bit smaller. This kind of pool can host smaller groups of people. For example, you might choose a 14 x 25-foot pool if you are tight on space.
Tip #3: Consider Outdoor Living Space
Not only do you need space for the swimming pool, but also consider other landscaping features you are planning to put around the residential pool. If you have limited space in the backyard, decide on the most critical elements you'd like to integrate. Then work with a pool specialist to design a layout that looks good in the yard.
An outdoor living space can be as simple as a concrete pad for lounge chairs. Or, you can upgrade the area with a pergola, outdoor kitchen, hot tub, and more. If you plan to set up furniture and grills around the pool, make sure you leave enough space. A designer can help you compare options for the pool/patio ratio and how it will look in your yard. Then, create an oasis that your family will enjoy for many years!
Tip #4: What is Your Target Budget?
How much are you planning to spend on residential swimming pool installation? In addition to the upfront costs for materials and labor, it's wise to consider how ongoing maintenance costs will affect your budget. It costs money to install, maintain, and operate the area.
The size of your pool will influence your maintenance costs. Larger pools are more expensive to maintain. You also need to be ready with money for upkeep and repairs as required.
Tip #5: Compare Prefab vs. Custom Installation
If you're on a budget, then a prefab design is a popular choice. These residential pool kits have everything you need for the installation and setup. The drawback is that you have limitations based on the shapes and sizes offered by the manufacturer. For example, there are only specific sizes of pre-molded fiberglass pool shells that you can choose.
On the other hand, a custom-designed pool has no limits. You can choose the size and shape since the materials are assembled by hand to match the blueprints. Of course, custom installation is more expensive. But it's worth the cost when you are prioritizing a beautiful, luxurious space for your yard.
Tip #6: Positioning of the Pool Compared to the House
You might have size restraints because of the pool layout compared to the house. It's essential to leave enough space when digging the hole for your new swimming pool. The pool is usually set away from the building to avoid disrupting the home's foundation.
Then, you can put in a patio or landscaping between the home and the pool. Also, be aware of other constraints that might affect the pool placement. For example, you might choose a smaller pool, so you don't have to remove large shade trees.
Tip #7: Compare Swimming Pool Shapes
As you start comparing different types of swimming pool shapes, you'll see that these outdoor features come in all styles, sizes, and designs. The most common residential pool shapes include:
Rectangular
Round
Oval
Kidney
Figure 8
Multi-sided
Custom-shaped
L-shaped
Understand that the shape and overall design of the pool will affect the aesthetics of your yard. If you want to make an architectural statement, then a uniquely shaped pool is a great option.
Tip #8: Consider Local Building Codes
Most areas require specific building permits before you can begin construction. Our team at Mid City Custom Pools can help you access the proper licenses to match city requirements. We always ensure that your swimming pool meets safety codes and other industry standards.
Are You Ready to Install a Residential Pool?
If you are interested in a residential pool for your home, we invite you to schedule a consultation to learn more about available design options. Our team offers the personalized support you need to ensure a beautiful, functional outdoor living space for your family.
These full-service solutions give you access to everything you need to design the ideal pool for your preferences. To learn more and access a free estimate, contact us at Mid City Custom Pools today.