How to Combine Features and Make a Splash with Your Pool
Mar 20, 2017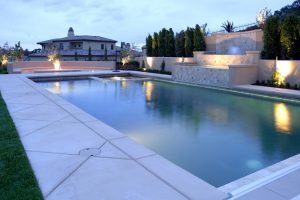 One of the best – and most effective – ways to take your home swimming pool to the next level is introducing new features. There are tons of options on the market today, from LED lighting and water features to stone pavers and solar lights. Depending on your budget and overall intention, you are sure to find a few different features that speak to your needs and will get the job done.
Having a custom home swimming pool installed in your backyard will make the hot Texas summer much more bearable. As we have discussed in the past, there are many different options out there when it comes to your home swimming pool – from the shape and outdoor living space structures you choose to the features you include with your pool. Taking your time and doing your research when deciding on which pool features will be best is important, as these are the elements that will enhance your space and provide you with years of relaxation and enjoyment. There is something special about combining different amenities for your pool, as it will truly allow you to customize your space and create an environment that is specifically tailored to your needs. Mid City Custom Pools offers a wide variety of amenities and features for your pool, including the following:
Lighting – This is perhaps the most inexpensive and effective ways to make a splash with your product. We offer a wide range of lighting options, including LED Lit Bubblers and Low Voltage Pool Lights. These two options, specifically, will sync together and change colors, adding a mesmerizing and relaxing element to your pool. There are numerous options when it comes to using these two lighting features together, including having the colors change randomly or syncing them up together. For example, you can do red, white, and blue lights for the Fourth of July, or just orange for Halloween, or even red and green during the holiday season. Combining lighting is an inexpensive way to make your pool come alive, and it gives you creative freedom to change things up as you wish!
Outdoor Living – Another great way to combine a couple different features to really take things to the next level is by integrating your outdoor living space with your pool. This can be done seamlessly by adding a swim-up bar that is designed specifically for your pool and backyard space. Swim-up bars are a wonderful way to tie your swim guests and outdoor guests together, allowing everyone to mingle together. Swim-up bars are a favorite option amongst many Texas homeowners, as they add an element of luxury while still being useful. Other options for combining outdoor living with your pool includes the patio furniture and layout you settle on. You can easily transform your backyard to your own personal lounging space with cabanas, outdoor kitchen, fireplace, and comfortable couches and chairs that all work together to make your guests feel right at home.
If you have any questions about the features mentioned above or would like to learn more about the amenities offered by Mid City Custom Pools, please do not hesitate to contact us today. We are here to make sure you end up with a home swimming pool and outdoor living space that you love and that perfectly represents your lifestyle. Contact us and schedule a consultation with one of our experienced Irving pool design techs today!