Why This is the Perfect Time to Invest in a Pool
Mar 28, 2017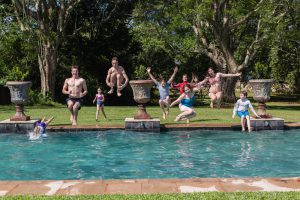 As the temperature begins to warm up and we begin to dust off the cobwebs from winter, it may be time to think about investing in a swimming pool. Whether you have lived in Texas your entire life or are a recent transplant, chances are you know how hot things can get in the summer. Not only is there heat, but humidity, too. Just thinking about the hot summer that is to come makes us want to jump into a clear, cool pool! While many people go to the local neighborhood swimming pool and water parks during the summer, a better option may be to invest in your own custom swimming pool. Not only will this allow you to skip the crowds that come with public swimming pools, but it means you can go for a quick dip or swim laps whenever the mood strikes you.
With the Texas summer months fast-approaching, taking the leap and moving forward now on your swimming pool purchase is key to be able to enjoy the cool waters during the hottest days of the year. If you aren't sure whether or not now is the right time to invest in a pool, we encourage you to sit down and weigh your options. Think about your lifestyle, your budget, and write down the pros and cons from your side of things. Chances are you will find far more things in the 'pro' column than 'con'! For many homeowners, money is the biggest deterrent when considering a swimming pool. However, people often don't realize that there are many different options when it comes to investing in a swimming pool. Sure, you can go big and have a huge luxury pool installed, but if that simply isn't in your budget, it doesn't mean you should throw this dream out the window.
A Worthwhile Long-Term Investment
When it comes to whether or not you should have a home pool installed, it's important to weigh the options of installation and maintenance against the actual value of the pool. While it may seem like you are shelling out a lot of money upfront (depending on which route you go), it's safe to say that the pool will pay for itself over the years. Not only will you and your family, friends, and neighbors be able to enjoy the pool for many years to come, but you will save all the money spent going to water parks, public swimming pools, and other neighborhood pools. It may not seem like a lot, but this will add up over the years.
Furthermore, a home swimming pool will provide you with an entertaining space for friends and visitors and a free place to exercise throughout the hot summer months when the last place you want to be is sweating in the gym! A customized swimming pool means you can create an amazing outdoor living space in the privacy of your own yard, equipped with an outdoor kitchen, fireplace, cabana, and plenty of space for relaxing. Not convinced yet? The pool experts at Mid City Custom Pools are here to answer any and all questions you may have regarding investing in a swimming pool. We know this is not a decision that anyone makes lightly, which is why we are here to ensure you understand what a great value you will be bringing to your home. Give us a call before the temperatures become unbearable – we will have you swimming in no time!