COVID-19 and Pool Builders
Apr 02, 2020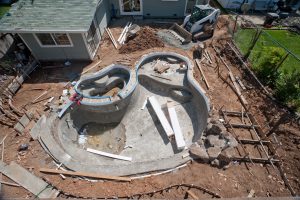 COVID-19 Has Impacted Many Businesses
The world is currently facing an unprecedented crisis that threatens the lives of millions across the globe. In December 2019, a novel coronavirus was discovered in a food market in Wuhan City, Hubei Province, China, which is now being officially referred to as COVID-19. The virus quickly spread across the entirety of China, and eventually, it made its way outside of the Chinese borders, infiltrating surrounding countries. In due time, it reached far away countries on different continents, including the United States. Due to this spread, the World Health Organization (WHO) declared COVID-19 officially a pandemic.
Millions of lives have already been impacted, as the virus has taken the lives of thousands and infected even more. COVID-19 has caused the entire planet to slow down, and in parts of the world, shut down completely. Even those who have not been affected by this virus directly have seen their lives impacted in other ways. Businesses have been forced to close their doors due to many government bodies issuing stay-at-home orders, banning the gathering of groups of ten or more.
COVID-19 not only threatens the lives of millions across the world, but it has also seen the livelihoods of millions affected. Mid City Custom Pools is one such business that has seen its operations affected in one shape or another. Today, we are going to be taking an in-depth look at COVID-19 and how it affects pool builders like Mid City Custom Pools.
Understanding COVID-19
COVID-19 is just one in a family of coronaviruses. These viruses travel from animals to humans, meaning they are zoonotic. The sicknesses they cause can be as mild as the common cold or cause life-threatening illnesses. COVID-19 is not the first coronavirus to spread across the world. There have been two other instances in the last 20 years of coronavirus spread. In 2003, a SARS outbreak began in Asia, claiming the lives of nearly 800 people. Then, starting in 2012, MERS begin to spread from Saudi Arabia and took the lives of 858 people.
COVID-19 has swiftly outpaced both SARS and MERS in confirmed cases and deaths. As of April 2nd, 2020, the 2019 novel coronavirus has:
857,641 confirmed cases globally
42,006 confirmed deaths globally
205 infected countries, areas, territories
As you can see, this current pandemic has preceded anything we have seen in recent memory. According to WHO, nearly one in every six people falls severely ill from this virus. Fortunately, 80% of people will make a full recovery without the need for extensive treatment. However, it's still vital that you remain aware of the common symptoms of COVID-19:
Fever
Cough
Shortness of breath
Dry cough
Tiredness
Aches and pains
Nasal congestion
Runny nose
Sore throat
Even though you are aware of these symptoms, you must remember that the incubation period for COVID-19 is anywhere from 1-14 days, so even if you have contracted the virus, it may take time for your symptoms to appear.
The State's Response
As the virus continues to spread across the world, in the United States, and within Texas, many government officials have made difficult decisions. While these decisions were made with the health and safety of the public and their communities in mind, they forced many people to make changes in their lives.
In Texas, Governor Greg Abbott signed an executive order on March 19, which banned the social gathering of ten or more people. Due to this order, theaters, gyms, restaurants, and many other establishments must temporarily close. Restaurants can remain open but only for to-go and delivery orders. Abbott's order advised establishments to allow employees to work from home if they can. Only essential businesses are to remain open during this time. Many other communities within Texas have also taken steps to slow the spread of COVID-19.
Dallas County issued its own stay-at-home order, as well. If you have any questions regarding what they deem as essential activities, essential businesses, and non-essential businesses, they have provided a useful FAQ, answering all your inquiries. Most of these businesses are:
Healthcare
Construction
Government functions
Public transportation
Critical trades
Grocery stores and restaurants (to-go and delivery services)
How Mid City Custom Pools is Affected
As you can imagine, Mid City Custom Pools has also been affected in some ways by this crisis. We would like to let all of you know that we are still open and will be providing our customers with our services. The overall safety and well-being of our staff and customers is our highest priority. While we do still intend on continuing business as usual, we will follow the steps laid out by the Center for Disease Control and Prevention (CDC) to ensure our staff, customers, and entire community remain healthy and safe.
We will continue to monitor the situation surrounding COVID-19 so that we can continue to provide service to our customers without threatening their safety. Today, we would like to explain how Mid City Custom Pools has been affected and the steps we are taking the keep everyone safe.
For the time being, our offices will be closed to the public. Our staff will remain in-office to take any calls from existing customers, potential new customers, and our team of sub-contractors who we schedule construction tasks with daily.
While we do plan on continuing with business as usual, we will not be holding in-person consultations. Our sales personnel will work remotely, conducting meetings through phone calls, video, and email conferencing until further notice. With the technology at our disposal, we will be able to safely and effectively complete the sales and design process this way.
On job sites, our personnel will be practicing social distancing, keeping a respectful distance, to protect all parties. We will keep our homeowners in the loop as the cities in the area implement different working demands.
Delays
While we will still be operating during this time, our limited services will mean there will be delays. We are currently experiencing delays in the sales and construction process needed to begin the construction of your pool. Additionally, approvals from electric providers and city permitting departments are also experiencing delays.
COVID-19 is causing an unforeseen delay in the process of building pools, one that we are doing everything we can to work around. However, we are also experiencing seasonal delays due to the heavy and frequent rain that falls during the spring. It often takes a couple of days for the job site to dry before we can continue with construction.
Our dedicated sales personnel and construction teams will continue to work during this time, taking all the necessary steps and tactics to help us push forward to complete the construction of your project. However, due to the current pandemic the world and our country is facing, as well as the seasonal delays, we do ask for your patience. We are expecting to face longer delays due to the circumstances.
Our entire team at Mid City Custom Pools understands how difficult of a situation this has been for everyone. We hope that you and your loved ones remain healthy and safe during this time. We would like to thank you for your patience and understanding. If you have any questions regarding our services, do not hesitate to contact us.