Why You Should Add a Water Feature
Apr 27, 2020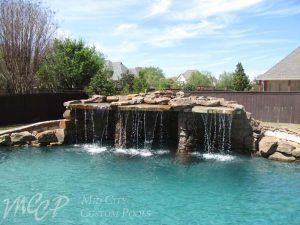 Water Features Are Welcomed Additions to Any Backyard
When building a pool, homeowners often look for the best ways to optimize their yard space without making it feel too busy or crowded. Typically, you can fit a pool in a yard of any size, even small ones. And while a pool can significantly impact the overall aesthetic of your backyard and outdoor living area, there is more you can do to increase the value of this outdoor oasis and give you and your loved one something to enjoy. There are countless other amenities you can include to your backyard along with your pool, such as a fire feature, a spa, and even a water feature.
We've spoken about why you should consider building a spa and adding a fire feature, but we haven't spent as much time explaining the benefits of adding a water feature. A water feature can add a level of elegance and prestige to your yard that everyone can enjoy and appreciate. What seems like such a simple addition can completely transform the aesthetic of your backyard. Some types of water features include:
Fountains
Waterfalls
Bubblers
Rain Curtains
Water Bowls
Grottos
Sheer descents
And more
Mid City Custom Pools has spent decades providing our customers with the highest level of pool building design and construction. We understand better than anyone how to create a pool design that compliments your home the best. This sentiment also extends towards other amenities. Today, we are going to take a deeper look at why you should add a water feature.
Improves Aesthetics
The first thing anyone will notice about a water feature is how it improves the overall aesthetic of not only your pool but your entire yard. Regardless of the water feature that you and your pool builder decide on, it is guaranteed to give your outdoor space a more elegant and beautiful look and feel.
The Sound of Running Water
While you can enjoy the overall look of your water feature, one of the best benefits of owning one is the sounds they make. The sound of running water adds a layer of tranquility and calm to your yard that you wouldn't normally have or experience. Water has long since been a staple when it comes to meditation and relaxation. Running water acts as a form of white noise, creating a soothing environment to relax in by helping you block out distracting and unwanted noise. Humans hear a host of different sounds, which helps clear our minds and ease any stress we may be feeling. With a water feature, you can come home after a long day and lay by the pool, listening to the sound of water to wind down.
Easy Way to Cool Off
Summer is swiftly approaching with each passing day. As we continue through the year, the days will only get longer and warmer. Summers in Texas are especially hot, which is why it is so important to have a way to stay cool throughout the entirety of summer. And what better way to do that than with a pool? We can take it one step further. Adding a water feature, such as a sheer descent or a waterfall, can add an extra way to stay cool and relax on hot summer days.
Fun for the Whole Family
As we said, summer is on our doorstep. With each passing day, we are inching closer and closer to long and hot days, which would normally mean schools would be out for summer. However, due to unfortunate and unforeseen circumstances, most children in Texas are currently out of school for their health and safety anyway. With so much time spent at home, they need a way to stay active and entertained. Adding a water feature to your pool can easily keep your little ones entertained for days on end. Whether they want to splash around bubblers or play underneath waterfalls and grottos, water features provide entertainment for the whole family.
Improve Water Circulation
Modern swimming pools are built with great filtration systems that ensure that the water that fills up your pool is clean and safe to swim in. However, pools also need you to swim in them to get the appropriate circulation it needs. When you don't, debris often builds up. Unfortunately, not everyone has the time to actively spend in their pools, which is exactly where a water feature comes in. A water feature gets the water in your pool circulating. When your water is moving, it helps move debris into the pool's filtration, keeping your pool clean. Some water features even help aerate pool water, which makes controlling your pH level much easier. Overall, a water feature keeps your pool water fresh for whenever you're ready for a swim.
Prevents Algae Build-Up
This benefit is tied directly with water circulation. Moving water does not bode well for algae. Algae is the bane of all pool owners. This living plant not only makes your pool look gross, but it can also clog up your filters and lead to poor water circulation. Additionally, it can also wreak havoc on your pool chemistry. It typically grows at the waterline. However, whenever you add a water feature to your pool, you can prevent the growth of algae. As we said before, algae and moving water don't mix, and water features keep your water constantly moving.
Adding a water feature to your pool is one of the best ways to improve the overall aesthetic of your backyard while also giving you and your loved ones an area to relax, cool down, and have fun. The expert pool builders in DFW at Mid City Custom Pools are here to help you with any of your pool and outdoor living amenities, including water features.
We would like to remind you that during the ongoing pandemic, we have made some slight changes to our operations to protect our customers and staff. Please contact our offices to learn more about these changes or if you are interested in any of our services.