Gift Your Family a Swimming Pool Installation for the Holidays
Dec 14, 2022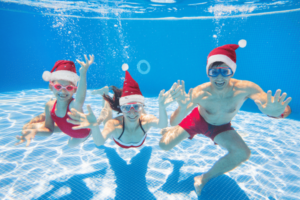 Do you want to share a family gift that brings the wow factor to everyone in your home? Then a swimming pool installation is a great option to consider. The holidays are a great time to share memories with your loved ones, and gifting a swimming pool is an excellent solution to sharing quality time together throughout the year.
Clothing, jewelry, books, and tech gadgets are all common gifts exchanged during the holiday season. But these small items don't compare to the fun and enjoyment that comes from having a swimming pool installed. There is undeniable excitement your family will feel with the anticipation of a backyard pool coming in the new year.
As you are putting together your Christmas wish list, why not dedicate your budget to home improvement projects instead of items that will eventually end up in the back of the closet? A swimming pool improves your lifestyle and offers countless hours of fun and play in the comfort of your backyard.
Why Gift a Family Pool This Holiday Season?
Is a family pool a good fit for your home? In many cases, it makes sense to create this backyard oasis to share with your family. Here are a few reasons why swimming pool installation should be at the top of your holiday gift list.
Family Bonding and Fun
You can't put a price tag on the memories you make with the people you love. The swimming pool installation creates a private space where you can spend relaxing evenings together. Additionally, it's the perfect location to host parties and events with friends and neighbors. Homeowners with backyard swimming pools often agree that time in the pool is some of the most enjoyable memories during the summer.
Save Money on Vacations
It's fun to go to the beach or a water vacation destination. Instead of spending money on flights or road trip expenses, why not dedicate that budget to go towards swimming pool installation? Once the pool is installed, you can save money by staying at home with a "staycation" as an alternative to going on vacation somewhere. A little bit of work right now creates the backyard oasis that you can share with your closest loved ones – in the comfort of your own space. A backyard pool gives you a sense of vacation all the time, without a need to leave home.
Hosting and Entertaining
Do you love the idea of making your home the central location where friends and family enjoy gathering? Pool parties are fun and memorable. Turn up the music and pull out the float toys, creating a place where people of all ages will enjoy the afternoon. Additionally, the patio around the pool is a perfect setting for cocktail parties, bridal showers, or even a nice dinner under the stars. The combination of a beautiful yard with a swimming pool installation is the perfect way to ensure that others enjoy their time when visiting your home.
Beat the Heat
When the summer starts to heat up, nothing feels better than a quick dip in the swimming pool. Even though you aren't trying to beat the heat in the cooler months, right now is the perfect time of year to start preparing for summer. Talk to our swimming pool installation team as soon as possible to learn more about your options. Then, when you gift a swimming pool to the family for Christmas, it gives you something to look forward to in the hotter months of the year.
Home Investment and Value
Any upgrades you make to your home can have a positive benefit on the overall value of the property. Of course, every situation is unique, depending on the current real estate market and the type of home that you live in. But talk to a real estate professional, and they will often agree that swimming pool installation has a positive benefit to increase the value of your property when you are ready to sell. So, you can enjoy the swimming pool right now, then benefit from a higher selling price when it's time to move in the future.
Childhood Education
It's important that your children are comfortable and confident with their swimming skills. Not only can you enroll the child in swimming lessons at a local recreation center. But a backyard pool is a great place where the family can practice swimming together. The best place for a child to learn is in the comfort of the backyard.
Things to Consider Before a Swimming Pool Installation
Is a swimming pool installation the right solution for your home? Here are a few essential factors to consider if you are thinking about gifting this home improvement to your family for Christmas:
Budget: It costs money to install a swimming pool, but the actual investment depends on the materials you choose and the type of pool you are putting in. Pre-constructed pools using fiberglass or vinyl liners tend to be much more affordable compared to custom-designed shapes and sizes. It's a good idea to schedule a consultation with a pool installation team to get an estimate, so you know what to expect in terms of pricing.
Pool Features: Not only do you want a built-in swimming pool, but you also consider other features that will make the space more comfortable and enjoyable. Things to consider include patio installation, lighting, swim jets, tanning ledges, waterfalls, and more. These details help you enjoy the outdoor space to the fullest.
Full-Service Installation: It's not a good idea to attempt a DIY installation because careful considerations need to be planned to ensure the swimming pool's safety and durability. Make sure you work with a pool installation team that takes care of every aspect of the construction – from start to finish.
Talk to a Local Swimming Pool Installation Company
Do you love the idea of installing a swimming pool in your backyard? Then it's time to schedule a consultation with our team to learn more about your options. We offer a full range of installation services, giving you a fast and easy way to add fun and relaxation to your backyard.
When you are ready to learn more, contact our expert team at Mid City Custom Pools today. We are always here to help!