Relieve Holiday Stress by Hot Tubbing
Nov 11, 2022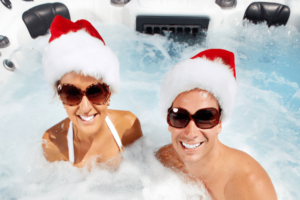 The holiday season is full of fun activities: decorating the tree, hanging lights, baking with the family, and hosting dinners. What holiday traditions do you have on the calendar this year? As you are filling the schedule, make sure to prioritize self-care time so you can relieve holiday stress as needed.
Even though there are many enjoyable activities, it's no surprise that the busy schedule can take an undeniable toll on your stress levels. According to the American Psychological Association, 38% of people agree that their stress increases during the holiday season.
Why is the Holiday Season So Stressful?
Everyday responsibilities are stressful enough as you are trying to keep up with work, family, and home responsibilities. It's common for people to feel stress throughout the year. Then add the extra activities, schedule requirements, financial expenses, and you end up with higher stress levels. Family traditions are fun, but they definitely require both time and money to implement.
While everyone feels the stress, women tend to carry a bigger load since they are often coordinating holiday activities, cleaning the house, shopping for gifts, and more.
Not only do the holidays bring higher levels of stress, but it's also the time of year when the winter blues start showing up. Shorter daylight hours and less sunshine means that people spend more time inside. A lack of vitamin D can have an undeniable impact on mood and stress levels.
Use Your Hot Tub to Relieve Holiday Stress
The good news is that you have a great tool to use at home that can help to relieve holiday stress: your hot tub. If you don't already have a hot tub, then consider investing in one this season as a family holiday gift.
Here is an overview of the ways your hot tub helps to reduce both physical and mental stress:
Relax Your Muscles: Pay attention to how your body is feeling right now… do you notice tension or stress in your shoulders? Or, maybe you have sore muscles from a workout or heavy lifting. Soaking in the hot tub is a perfect solution to melt those sore muscles away. As the muscles relax, you will notice that your stress levels also go down.
Sleep Better at Night: Relaxing in the hot water before bed is the perfect way to wind down after a busy day. Let the jets work out the muscles, and you will be able to fall asleep faster. Plus, the relaxation can reduce stress hormones and cortisol, while also boosting dopamine and serotonin – which might have a positive impact on the quality of your sleep.
Schedule Affordable Self Care Time: There are a lot of responsibilities that come when you have kids in the house. Many parents find it challenging to take time for themselves, especially during the holiday season. Instead of paying for an expensive massage or day at the spa, put the kids to bed and soak in the hot tub to clear your mind at the end of the day. Prioritizing self-care helps you feel more rested and in a better mood, making it easier to show up as a better parent.
Quality Time with Loved Ones: Another way to relieve holiday stress is by making memories and having quality time with the people that you love. Keep this social gathering simple by inviting people to a small hot tubbing party. This shared activity helps you connect with family and friends, and everyone can get a little stress relief at the same time.
Combine Stress Relieving Activities: Look for ways to maximize your hot tub time by increasing relaxation. For example, you can do a short meditation or deep breathing exercise while you are in the hot tub to relax the body and the mind at the same time.
Other Tips to Relieve Holiday Stress
In addition to your hot tubbing time, there are other options to reduce stress during this time of year. Instead of feeling like you are coping through the holiday season, be proactive about activities that relieve holiday stress. Then, you will find the season more enjoyable and fun.
Here are a few tips for holiday stress prevention:
Be Realistic: Overpacking the schedule or trying to do too many things at once is one common cause of increased stress levels during the holidays. Remember that you don't have to be perfect. Your family will grow and change over time, which means that you can adapt activities to match the new chapters in life. Look for ways to simplify the gatherings. Focus on quality over quantity.
Set a Budget: Financial stress is undeniable during this time of year, especially with all of the holiday shopping that happens. Before you go to the grocery store to prepare for a Thanksgiving feast, set a budget and plan the menu to match. Also, be careful about picking a budget for black Friday and gift shopping.
Say No When Necessary: You don't have to say yes to every activity that comes along. Agreeing to something when you really want to say "no" often results in stress and resentment. People will understand if you don't participate in every activity. If you find that your schedule is overbooked, then relieve holiday stress by taking some of those activities off your calendar.
Stay Consistent with Healthy Habits: While it's fun to indulge in a few holiday treats, don't set aside all of your health goals this season. Implement small strategies to stay on track with your diet. For example, eat a healthy meal before attending a party with sweets, drinks, and cheese. Also, make sure you are consistent with physical activity and workouts.
Enjoy the Holiday Season!
Remember the most important aspects of the holiday season: sharing time with friends and family. Focus on your priorities and let the non-essentials fall to the backburner. Also, take advantage by soaking in your hot tub whenever you need to relieve holiday stress.
If you want to install a hot tub as a household gift this year, then reach out to Mid City Custom Pools to learn more about your options.