How to Plan a Hot Tub Date for Valentine's Day
Feb 09, 2022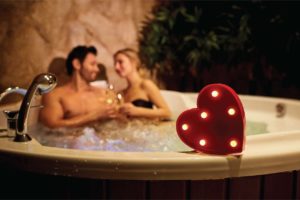 Valentine's Day is right around the corner; do you have plans to share this day with a special someone? Whether you are in a long-term relationship or have a new partner you want to impress, a hot tub date is a romantic way to share quality time.
Many people book reservations at a fancy restaurant or plan a weekend away together. Instead, you can go out for the evening then come home to enjoy a hot tub date. Or, why not avoid the crowds and stay in together for a quiet evening?
Tips for Planning a Hot Tub Date
A hot tub date can make your Valentine's Day celebration extra special, especially when you have a hot tub in the backyard. Here are a few date ideas to make the night a little more romantic and memorable:
Bring the Snacks
Even if your hot tub date is planned after dinner, make sure to have a few tasty treats on hand to enjoy together. For example, a charcuterie board with meats, cheese, and crackers is nice to snack on while you are talking. Other romantic snack ideas include chocolate-covered strawberries, hummus, cheesecake bites, and decorated cupcakes.
Don't Forget the Drinks
You need to stay hydrated when soaking in a hot tub, so have plenty of water in a cooler nearby. It's also lovely to share a glass of champagne or wine or bring a favorite drink.
Set the Mood with Lighting
Set up the hot tub area with soft lights, such as strings of white lights, to create a nice, romantic ambiance. Consider other ways to make it a little more romantic, such as setting flowers or rose petals around the hot tub or a trail of petals from the house out to the hot tub. Make it more of a surprise by blindfolding your partner to lead them to the surprise around the hot tub.
Turn on the Tunes
Quiet, romantic music adds to the ambiance you are creating. Create a playlist in advance using a music streaming service such as Spotify. You can enjoy your favorite love songs throughout the hot tub date without worrying about choosing music in the moment. Instead, use a Bluetooth speaker to play the music, giving you the ability to control the music with your phone while you are soaking in the hot tub.
Add Aroma
Tap into all the senses by adding a pleasant aroma to the experience. Light a few scented candles around the edge of the tub to help you settle in and relax during your hot tub date. Another option is to use aromatherapy with a diffuser nearby.
Important note: most bath aromatherapy products, such as bath bombs, aren't designed to be used in hot tubs. The ingredients can damage the jets, filters, and pumps. Only use ingredients that don't disrupt the water chemistry.
Plan a Relaxing Massage
Help your partner relax with a shoulder massage while soaking in the water. Or, take the experience to the next level by scheduling a backyard couple's massage to unwind and relax together. A massage therapist can bring their services to your backyard. Then you can enjoy the hot tub date with your partner after the massages are over.
Don't Forget to Prepare the Hot Tub Before Your Date
Before your hot tub date, one of the most critical steps is to clean the tub and make sure the water chemistry is ready for this romantic evening. Taking care of a hot tub takes a bit of work, but this proactive care is important to ensure the tub is safe and comfortable to enjoy.
Many people take care of the hot tub at all times so they can soak anytime they want to relax. At the same time, you can plan for special occasions – such as Valentine's Day hot tub dates. Consider these hot tub maintenance tips to ensure the tub is ready for your upcoming date night:
Drain the Hot Tub: If the water has been sitting for months, it might be time to drain and refresh the water. This process helps you remove contaminants that can build up over time, such as cosmetics, lotion, sweat, dirt, hair products, body oils, and more. Even though the filter can help with managing contaminants, it's still necessary to drain the tub, clean it, and add new water at times.
Clean Hot Tub Surfaces: Once the hot tub is drained, take time to clean all the surfaces. Spray the hot tub walls and floors, focusing on the cracks where bacteria and mildew could be collected. Wipe everything down with a soft cloth, then rinse the surface sufficiently to prevent foaming because of the cleaning products.
Replace the Filter: Check to see if it's time to replace the filter. Sometimes, a general filter cleaning is sufficient to ensure it is working correctly. Or, it might be necessary to install new equipment if your filter is old and used.
Refill the Hot Tub with Water: Now that your hot tub is squeaky clean, it's time to refill the tub. First, use fresh water from the hose, following the unique instructions for your specific type of hot tub.
Keep it Covered: Make sure to keep the hot tub covered when you aren't using it. This cover helps hold in the heat and keeps out dirt and contaminants.
Keep in mind that you need time for the water to heat up again before your hot tub date. Additionally, the water treatment chemicals need time to mix and penetrate – at least 24 hours. Therefore, you'll want to retest the water before using the hot tub.
So, plan ahead by cleaning, refilling, and treating your hot tub at least a few days before your Valentine's Day hot tub date. Then, you can soak without any worries on Valentine's Day.
More Information about Hot Tubs
If you don't already have a hot tub to enjoy, then a hot tub installation might be the perfect gift so you can enjoy romantic evenings together in the future. For more information about hot tub installation, contact us at Mid City Custom Pools.