The Importance of Removing Dog Hair From the Pool
May 15, 2018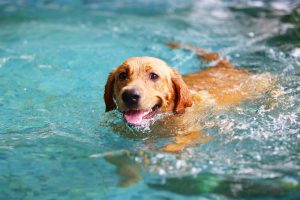 Dogs love to swim, no doubt about it, but what about all that dog hair that could clog up your pool's filtration system? As much as we love our furry friends and know they need to cool down just as much as we do during the hot Texas summers, we don't want our pool to get ruined by their fur. If you've given up trying to keep your furry friend out of the pool, it's important you know the best tactics for removing hair from the water. Water play is a great way for your pup to get some low-impact exercise and cool down from the sweltering temps. But there is, of course, a downside – the residue of dander, fluff, and loose hair they will leave behind. Unfortunately, this residue isn't just ugly to look at, but it can destroy your filtration system. In the event your filtration system has been ruined by dog hair, you will likely have an expensive repair on your hands.
Here at Mid City Custom Pools, we are dedicated to making sure our clients have all the information they need to properly care for their pool. If you have a furry family member who will also be enjoying the cool water in your backyard this summer, make sure you brush up on how to properly clean your pool. Luckily, there are a few simple ways you can minimize your dog hair problem and prevent it from ruining your pool – and your time!
Always de-shed your dog before allowing them into the pool – This may seem like an annoying step, but it saves you a great deal of time and trouble down the road. There are many different brushes and other grooming tools on the market today that will get the job done. Be sure to look for a de-shedder that is right for your dog's coat. This will ensure you are effective in the de-shedding process.
Make sure your pool has a strong filtration system – If you are going to allow your dog to swim in the pool, you may want to look into a stronger filtration system. This will ensure their hair doesn't clog the system and keep the pool from cleaning itself.
Hand-skim the water – After your dog has taken a dip, skim the water surface with your hand and collect any hair that was left behind. This is an easy step that is a lot more effective than many people realize.
Use a pool sweep – A pool sweep is a very handy tool that operates off the suction created by your pool pump. The skimmer basket will suck in water, trapping any debris (such as dog hair) and preventing it from going back into the pool.
Use a hand vacuum – A hand vacuum is a separate tool from your pool's filtration system and is a great way to help you clear the water of any clumps of hair that may have made their way to the bottom.
Add an extra filter over the skimmer basket – Using a household item like a hairnet or a pair of pantyhose as an extra layer of filter is another way to keep your pool clear of dog hair. Simply place the fine mesh material of your choosing over the skimmer basket and clean the pool after your dog gets out.
We all love our dogs, and sometimes it can be hard to say no to them, especially when it comes to water. Allowing your dog to swim in the pool isn't a problem, but the hair they may leave behind could cause issues. Make sure you take the above tips into consideration and keep your pool dog hair-free this summer! If you have any questions about how to clean your pool, please contact our Southlake pool builders today.