Memorial Day Pool Party Ideas
May 09, 2018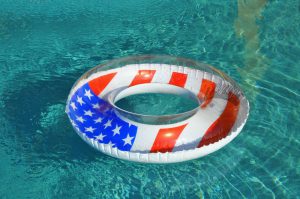 Memorial Day is just a couple short weeks away, which means it's time to start thinking about throwing a pool party! Memorial Day signifies the start of summer and is the perfect time to show off your new home swimming pool to your friends and family. You've probably been anticipating the holiday weekend since winter, so it's important your party goes off without a hitch. But before you fire up the grill and break out the floats and sunblock, you will want to plan everything out to make sure no detail is forgotten.
There are many different ways to enjoy your pool with your closest friends and loved ones over the holiday weekend, but a good place to start is to consider your guest list. Will there be kids, or is this an adult-only party? Whichever direction you go in, planning a party that is safe and fun for all is a must. Here at Mid City Custom Pools, we strive to do everything we can to help you enjoy your backyard swimming pool to the fullest. In addition to custom swimming pool design and installation, we also offer a wide range of outdoor living services. Whether you are interested in having an outdoor kitchen installed or a fire pit to enjoy the cooler summer evenings, we've got you covered.
With that in mind, here are a few tips to celebrate the unofficial start to summer with a pool opening party this Memorial Day:
Settle On a Theme – Themes are a great way to get into the spirit of summer and celebrate the months ahead. Popular pool party themes include a Hawaiian luau, mermaids, patriotism, fiesta, or a beach party. You will likely be able to find tons of awesome party decorations, floats, and more that will really tie everything together and make for a fun soiree for everyone.
Get Your Pool Ready – Once you've started planning and have settled on a theme, it's time to make sure your pool is ready for your guests. Skim the water for any leaves and debris, test your chlorine levels, and run your pool cleaning system in order to ensure the water is crystal clear. If you have any questions about how to get your pool ready for summer, please don't hesitate to contact Mid City Custom Pools.
Plan Your Menu – One of the most important aspects of a good Memorial Day pool party is to plan your menu. You can stick with the usual suspects (burgers and hot dogs) for the grill, or spice things up a bit and get creative with your menu. Grilled veggies, pasta salads, fruit kabobs, guacamole and chips, and tacos are all healthy, easy options that everyone will love – both young and old. If you have decided on a theme, be sure and plan your menu accordingly and ask others to bring side dishes that complement what you are making.
Choose Your Party Libations – A good Memorial Day pool party isn't complete without some refreshing libations. Try your hand at festive margaritas or a new refreshing cocktail, such as sangria. You may want to have some cold beers, wine coolers, or cider on hand too. Be sure to offer non-alcoholic drinks and have plenty of water for your guests. Staying hydrated on such a big party holiday is a must, especially if you are going to be outside soaking up the sun all day!
Set Up Your Poolside Space – Finally, you will want to spruce up your poolside space so your guests can enjoy their time even when not in the water. If you have limited seating, ask guests to bring a chair when you send out the invite. Make sure there are plenty of umbrellas or shades so people can get out of the hot sun when necessary.
We hope these ideas give you a good place to start when planning a pool party this Memorial Day! Enjoy the holiday and be sure and contact Mid City Custom Pools if you have any questions about our custom Southlake swimming pools or outdoor living offerings.