How to Keep Pool Water from Freezing During the Winter
Jan 16, 2017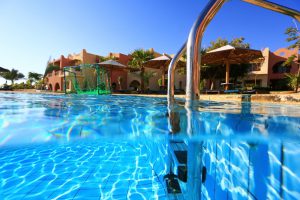 Just like in most other states throughout the United States, it is essential in Texas for pool owners to freeze guard their pool when the temperature dips below freezing (32 degrees Fahrenheit). We recommend freeze guarding your pool for a degree or two above 32-degree F, as that is the temperature when the water will freeze. As you may be able to guess, freeze guard means to protect your pool water from freezing during the winter. If your pool is not properly prepared for the drop in temperature, it could cause issues for pool equipment and plumbing. This is because when water freezes it expands to nine percent of its volume, which when you think about it is a lot!
While completely winterizing your pool isn't necessarily needed in Texas, it is worth considering. There are many things that can happen during the winter that can cause damage to your pool or spa system, such as a power outage or below average temperatures (hello, snow!). Furthermore, when you are working with a pool and spa combo and you have an automation system, when it gets below a certain degree problems can ensue. This is because most pool automation systems are controlled by a pool actuator, which is the valve that is either connected to the pool automation system or a solar heating system. It is important to have an in-depth understanding of how to maintain your home swimming pool and keep it in great condition – regardless of whether it is summer or winter.
Let's now look further at what you can do to keep your pool water from freezing throughout the winter:
Freeze Guard Your Pool – As mentioned briefly above, freeze guarding your pool is one of the best ways to keep the water from freezing. All of Mid City Custom Pools come with a freeze guard, which means you can rest assured that your pool will be safe, should the temperature dip below 33 degrees. Our freeze guard feature allows pool and spa owners to set a desired temperature at which the pump and heater will automatically kick on, keeping the water circulating throughout the pipes. This also means less work for you, as you won't have to worry about opening up the valves in the winter to check to see if the water froze.
Consider Winterizing – Again, in most parts of Texas winterizing your pool isn't an absolute must, but it is a good idea. In the event of a power outage or unexpected snow/ice storm, you will have peace of mind that your pool is protected from the dangerous low temperatures.
Keep Up With Maintenance Year-Round – Finally, maintaining your swimming pool throughout the year is essential to preventing the water from freezing and staving off any other problems during the winter. Mid City Custom Pools aims to provide you with services and features (such as automation and freeze guard) that will keep you from having to maintain them on a daily basis. That being said, paying attention to the state of your pool and taking steps to protect it from the changing seasons is a must.
All of our pools come with a freeze guard feature and automation is sold separately. Please do not hesitate to ask us any questions you may have pertaining to protecting your pool during the winter and throughout the rest of the year. We want to make sure your pool is prepared for whatever Mother Nature has in store so that you won't be stuck out in the cold trying to prevent your pool water from freezing! Contact us today for more information about our in-ground swimming pool services here in Hurst.