Selling Your Home with a Pool? Here's What You Should Know
Jan 23, 2017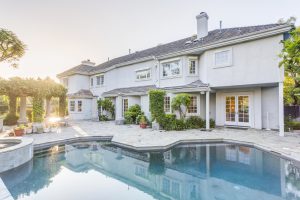 With Spring right around the corner, chances are some of you are thinking about putting your home on the market. While it is true that there is no 'wrong' time to sell a home, statistics show that waiting until Spring to market your home could pay off in the end. If the home you are thinking about selling has a swimming pool, there are a few things to keep in mind. Selling a home with a pool requires a bit more thought and attention to detail than many people realize. One of the most important aspects of selling a home is making sure it is staged in a way that is both inviting and leaves room for the potential buyers to imagine their own belongings in the space. Homeowners with swimming pools should pay special attention to staging, working hard to ensure their backyard space is in tip-top shape.
However, simply raking the leaves, mowing the grass, and making sure the patio is swept off isn't all that needs to be done when it comes to staging a backyard swimming pool and getting the space ready for potential buyers. In fact, there are quite a few things to keep in mind before your home with a pool will be market ready. From getting the pool inspected to taking care of any necessary repairs, let's go over some of the top considerations for selling a home with a pool:
Get the Pool Inspected – First and foremost, contact your local pool company and have the pool and all its inner workings inspected. Make sure the pool doesn't have any issues and is structurally sound. You will want to look for cracks, which can be caused by soil and other environmental factors. If you have a crack in the pool, Mid City Custom Pools can fix it. Depending on the warranty of the builder, you will need to determine if the items are warrantable. If we discover soil is the cause of any existing cracks, we can take care of the soil to prevent this from happening again.
Take Care of Any Repairs – No one wants to buy a home with a swimming pool that is in need of repair. With this in mind, your best bet is to take care of any repairs before putting it on the market. This will save you a lot of time and money throughout the selling process. If your pool is under warranty with us, it may take care of any necessary repairs, depending on the issue.
Is the Pool Energy Efficient? These days many people are looking for pools that are energy efficient and cost-effective. If Mid City Custom Pools built your pool, contact us for information on the energy efficiency of the pool itself and any equipment. The process and equipment that we use will save you 75% on your electric bills and will help you sell your home faster. Our monthly and weekly maintenance services are much lower, thanks to our commitment to energy efficiency.
Better Home Value – Depending on where you are located in Texas, a home swimming pool can dramatically increase your home's value. It is no secret that the Texas summers are hot, which is why many people looking to buy in the area want a pool.
We hope this gives you a good place to start when it comes to how to sell your home with a swimming pool. If you are in need of any repairs or would like to schedule an inspection with one of our Hurst pool technicians, please do not hesitate to contact us today.