What to Know Before Getting a Pool Slide
Oct 09, 2019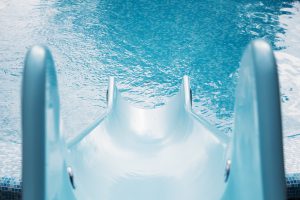 A Slide Can Be A Great Addition to Your Pool
Pools are a source of limitless fun, excitement, and relaxation. They are a great way to keep your children occupied while also providing you with a chance to cool off during hot summer months. However, excitement in the pool does not stop there! There are several amenities you can add to your pool, including water features, diving boards, and slides. A pool slide is a particularly exciting feature that provides your children with the chance to feel like they are at a water park.
Slides aren't just for children, however! Adults can also take advantage of the excitement that slides offer. If you are interested in adding a pool slide, it is important to know that you don't have to get one right away. They can be installed at any point. If you want to add it while you are building your in-ground pool, that's fine. If you want to wait until a later date, that works, as well. Just remember to make sure that there is enough space left over to include it.
Before you add a pool slide, there is other important information that you need to be aware of.
Size of Your Pool
Regardless if you already have a pool, or you are planning on including a slide during the construction of your pool, the size of it matters. Some pools simply don't work with a slide. For example, an infinity pool is designed to be an elegant and peaceful body of water. A colorful and crazy pool slide would stick out and not blend with the design or shape of the pool at all.
Some freeform swimming pools and geometric swimming pools will work perfectly with a slide, but you should always consult with your pool builder to make sure that a slide would work both practically and aesthetically.
Lap pools also wouldn't work with a slide. It is far too narrow and would essentially defeat the purpose of a lap pool. It may not even pass city regulation, as well.
Location
The space in your backyard is premium real estate. If you already have a pool, you have to ensure that there is enough space left to fit a slide. When building your in-ground pool, you can discuss with your pool builder what space is needed to make sure a slide will properly fit.
You have to remember that not only do you need space for the slide itself, but also its ladder. Most pool slides require a minimum area of 8 feet x 15 feet, depending on the style of your pool. You need ample deck space around the slide to enable proper access to the ladder. Without the appropriate space, you and your guests may have to awkwardly travel around the pool or even walk underneath the slide itself. Both of these actions can be inherently dangerous.
Try to aim the slide facing your patio or outdoor living space so you can keep an eye on your children using it. Also, make sure this space is near the deep end of the pool to make sure that no one gets hurt when sliding.
Safety Regulations
While pool slides provide you and your family with countless hours of fun, they can also be dangerous if not installed correctly. Even when they are, you, as the pool owner, need to ensure that the amenity remains in good shape, protecting anyone who chooses to use the pool add-on.
There are several safety regulations that must be followed to ensure no one is harmed while using your slide, including:
Making sure all ladders, steps, or ramps have nonslip tread on them
The angle of the slide's ladder or steps keep the user's center of gravity balanced
The slide should be able to bear a capacity of 300 lbs. without failing or getting damaged
All slides must be wet for safe sliding
Handrails on the slide must be at the appropriate height for all users and must be nonslip
The exit of the slide must be a safe distance away from the walls of the pool and in the deep end
During pool service, give the slide a shake to catch any loose bolts or other damages
Pool safety is always important, no matter who is using the pool.
Design and Materials
We live in a time where designs for pool slides have gotten extremely complex. There are those that are still very simple, resembling the designs that you imagine when thinking about pool slides. However, many pool builders' limits are only hindered by your imagination. Many pool builders can create slides that mimic natural elements, including rocks and stones to give your pool a more natural aesthetic. All you need to do is consult with your pool builder to figure out what they are capable of doing.
Some of the most popular materials used when creating slides are prefabricated polyethylene plastic and fiberglass gel coat. Acrylic was once used to produce slides, but the material could not keep its color while in the elements. The slides are always constructed offsite.
For custom slides and a more natural look, tile, smooth, molded concrete, or peddles are used to craft the chute. For peddles, a wax resin is applied on top to protect those sliding.
Maintenance
If you own a pool, you are completely aware of how much time is needed to keep your pool clean. However, many pool owners don't even think to clean their pool, but they should. After all, your pool slide is constantly outside, spending each day out in the elements. If you fail to properly maintain them, they can become damaged and wobbly or discolored.
The screws and bolts used to secure your slide in place will eventually need to be tightened or replaced. To improve the finish of your pool, you can utilize a glazing or polishing kit.
Owning a pool is a big commitment, and adding a pool slide only increase that commitment. There are several aspects to owning a slide that every pool owner must be aware of before they decide to include one to their backyard real estate. If you have any questions regarding pool slides, contact the trusted pool builders at Mid City Custom Pools.