Mid City Custom Pools Process: The Way We Do Things (Part 4)
Apr 26, 2018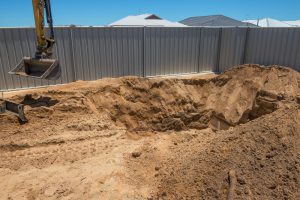 This week we are going to once again take a look at the Mid City Custom Pool's process that we've been telling you about over the last several months. Last month, we went over the permit process and what you can expect during the pre-construction phase. This month we are going to discuss the actual construction of your new pool, which is what it's all about, right? Designing and installing a customized swimming pool comes with a lot of moving parts, as you've probably realized through this blog series. Here at Mid City Custom Pools, we strive to think of every single detail when it comes to the pool building process. We do not cut corners and always include our clients in each step of the design and build process. We believe in taking the time to work closely with our clients in order to ensure the end result is exactly what you had in mind.
Let's now take a look at what the construction process of your new pool entails:
Pre-construction work comes first – Prior to any digging, there are a few things that will need to be taken care of during the pre-construction process. This will include rerouting the electrical work, sewer system, and any gas lines, if applicable. What needs to be done in this phase will, of course, depend on what the ground needs. If you know the location of the electrical wires, sewer system, and gas lines, we ask you to let us know before we get started.
Dig tess – Before we do any digging, a dig tess will need to be conducted. This is when we will mark the ground and make note of anything that will impede the excavator. This needs to be handled before the construction process so the process is not disrupted. Mid City Custom Pools is here to help you through this process.
Prep the site – Prior to the excavator arriving, we will prep the site. This is important because once the excavator arrives, he's there for one purpose: to dig your pool, which is something he's great at! By preparing the site, we are getting it ready for what comes next. The job of the excavator is to dig pools only. Every person at Mid City Custom is a master at each thing, so our excavator is there to dig only, he is not moving trampolines, etc. He is ready to dig.
It's finally Dig Day! Dig day is a very exciting day! You are not required to be at the dig because you have already been at the pre-construction meeting, but you are welcome to be there to watch the magic unfold. This is an exciting day, especially for kids! The trucks, tractors, and of course all that dirt makes this an unforgettable day. All that planning and those pre-construction meetings lead up to this – the day when we make your dreams a reality!
Excavation begins – The excavation is a very important and exciting phase of construction. The excavator sets up the stage for everything that comes after him. He sets up the site and gets it ready for your pool to be poured.
Steel and plumbing phase – In this phase, we put steel and plumbing in your pool, which is what we will discuss in the next blog. Steel and plumbing are also very important, as steel is the strength in your swimming pool. We will cover this topic in our May blog!
To learn more about the excavation process or about dig tess in Southlake, please contact Mid City Custom Pools today. Next month we will go over the steel and plumbing phase, which is getting us that much closer to the finished project – your home swimming pool!