Now Is The Time To Add A Fire Feature To Your Backyard
Oct 24, 2018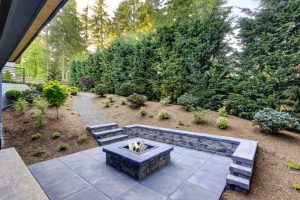 Now that summer has come to an end and the cold weather is making its way into Texas, you may be running out of reasons to use your beautiful backyard. If this is the case, the good news is there are actually a lot of ways to make your backyard useful for the cooler weather and all year round.
One of the best ways to add aesthetic appeal to your backyard and create an attraction that will look amazing every season is to add a fire feature. Fire features and fire pits are one the highest rated and desired backyard attractions, and here is why.
Fire features extend your living space to the outdoors
Fire features extend your living space from inside your home to outside your home. With a fire pit in your backyard, you will have another place to sit and relax with your family and friends. You can relax by the crackling fire and enjoy your backyard even more than you did before.
Fire features make your backyard more winter-friendly
While you may find that you spend less time in your backyard during the fall and winter months when the cold weather comes, with a fire feature this won't be so much of an issue. Your fire feature will warm up your outdoor space and make it a bit more winter-friendly.
Fire features make for wonderful focal points
Aside from being extremely useful, fire features are simply beautiful to look at. If you feel like your backyard is missing something, adding a fire feature may be what you need to tie it all together. Install a fire feature in your backyard to make for a wonderful focal point.
Fire features create for an amazing ambience
The warmth and capturing vision of a fire feature can't be replicated. Adding a fire feature to your backyard creates for the perfect ambience, come summer, fall, and winter.
Fire features help keep the bugs away
Fire is well-known as a natural bug repellent. Adding a fire feature to your backyard will help to keep pesky bugs such as mosquitos away from you and your loved ones while you are outside enjoying your backyard.
Mid City Custom Pools is a trusted and highly recommended company that specializes in backyard beauty from pools to fire features in Trophy Club. If you have questions or would like to inquire about what we can do to help you reach your backyard dreams, contact us today.