Why Outdoor Kitchens Are Great Backyard Additions
Sep 20, 2017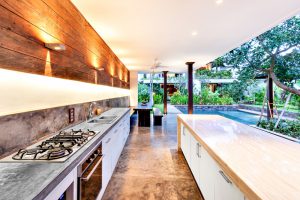 With summer coming to a close and fall just around the corner, it's time to start thinking about ways you can remain outside – all year long. Here in Texas we generally have good weather throughout the year, save for thunderstorms and the random snow storm. Thanks to the climate, outdoor kitchens are a popular addition to many homeowners. There are many wonderful benefits to an outdoor kitchen, from allowing you to enjoy the outdoors while whipping up a delicious meal to being able to entertain outside – all year long. If you are someone who can't get enough of the beautiful weather in our wonderful state, or simply loves to entertain, we encourage you to consider adding an outdoor kitchen to your space.
There are many different directions you can go with for an outdoor kitchen, including a state-of-the-art propane grill and other awesome appliances that will take your new outdoor cooking space to the next level. Ask anyone who already has an outdoor kitchen – it will become the center of entertainment in your home overnight! In recent years outdoor kitchens have become popular because of their year-round appeal and endless design options. Some of the most common appliances and accessories people add when embarking on an outdoor kitchen project include:
● Oversized grills
● Wood-fire pizza ovens
● Outdoor fireplace
● Tile or granite countertops
● Gourmet appliances
● Metallic countertops
● Refrigerator and ice maker
● Wine fridge
● Kegerator – or beer dispenser
● Full bar
● Two-side grill
● Warming drawer
● Side burners
● Smoker
● Blender
● Storage space
● Dishwasher
These are just a handful of ideas for those planning an outdoor kitchen. As you can see, you can take it as high-end and luxurious as you wish! Outdoor kitchens can be simple and sleek, providing you with a space to grill and prep food, or completely over the top and fancy, such as those that include a dishwasher. The world is truly your oyster when it comes to designing your Hurst outdoor kitchen!
Why Add an Outdoor Kitchen?
We've touched on this a bit already, but now it's time to take a closer look at some of the top reasons why an outdoor kitchen is truly a wonderful addition to any backyard. As mentioned, outdoor kitchens automatically become a hub for entertaining, which is a win-win for everyone. As the host and likely cook of many backyard gatherings, being in the center of the action has its appeal. By taking the plunge and installing an outdoor kitchen, you will be able to cook in style, without having to run back and forth in your house every time you need to do something.
There is a reason why outdoor kitchens have been such a popular trend in warmer climates for the last decade or so. If you would like to learn more about our custom outdoor kitchens or how Mid City Custom Pools may be able to help you plan your dream backyard living space, don't hesitate to give us a call!