Outdoor Living Space Building Ideas (Part 1)
Feb 21, 2017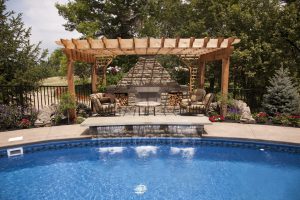 One of the hottest home trends in recent years has been to improve your backyard living space by turning it into a welcoming, comfortable area to kick back and relax. This is especially true for homeowners in Texas and other warm climates, as they are able to enjoy their backyards year-round. With this in mind, it may be time to jump on the bandwagon, so to speak, and step up your outdoor living space game. If this is your first time tackling a backyard project like this, it may seem daunting at first. There are so many different options out there, it can be difficult to know which direction to go. Thankfully you have a friend in Mid City Custom Pools and we are here to help ensure you end up with the perfect outdoor living area for your needs.
From fireplaces to cabanas, patio covers, and even shingled roof structures, your options are endless! Today we are going to focus on outdoor building structures that can enhance your backyard living space. We will go over the various types of structures out there and what you need to know in regards to determining the size of the structure, what type of shade you want, and how much maintenance you are looking for. Again, there are tons of great options on the market today, which we know can be overwhelming for homeowners first starting out. In order to make things a little easier on you, we have narrowed down some of the options and organized them in a more approachable manner. As always, if you have any questions or would like to schedule a consultation for your new outdoor living space with us, please do not hesitate to give us a call. Here is a look at some of the top outdoor living building structure you can choose from to give your backyard the makeover it needs:
Cabanas

A less structured option, cabanas typically have a roof and open sides with fabric that can be pulled in to create privacy. While you often see cabanas on beachside resorts, it could be a wonderful addition to your backyard.

Pavilion

Pavilions are freestanding structures that are typically attached to one end of your house in order to create an extension or wings, if you will. This is a great option for those who are planning on building an outdoor kitchen or want to simply extend their indoor living space right into the backyard.

Patio Cover

A simpler choice, patio covers are ideal for homeowners looking for some shade without having to go too big. Patio covers come in a wide range of materials and sizes, allowing you to choose the best one for your specific needs.

Pergola or Arbor

Both pergolas and arbors are a little higher maintenance, but cost less than other options. When you go this route, you will get the best of both worlds – either 100% shade cover or it will let the light come through (if you want).

Equinox Louvred Roof System

This is perhaps the most advanced system, and one that will truly enhance your outdoor living space. With a push of a button, it will allow the sun to come in and out. When closed, it will give 100% blockage from letting the sun in. This specific type of roof system is solar powered and can be powder coated to look like wood.
It is no secret that a well-put together outdoor living space is critical, especially in Texas. Shade is a must if you are planning on being outside during the hot summer months, or in general. This is why it is important that you find the right structure for your space. We hope the above list of structures will give you a good place to start! If you have any questions or would like to schedule a consultation, please contact Mid City Custom Pools.