Tips for Upgrading Your Home Swimming Pool
Feb 16, 2017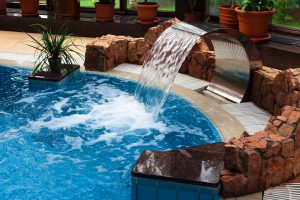 OK, so you have the home swimming pool that is the envy of all your neighbors, but it has become outdated over the years and could use a major facelift. What do you do? While many people feel remodeling or upgrading their home swimming pool is just too much work and not worth it, we are here to tell you that is not the case. In fact, upgrading your pool can be super simple and doesn't have to cost you an arm and a leg. This is one of the best parts about having a custom swimming pool installed in your backyard – over the years you can choose to make minor upgrades, or forge ahead with a full remodel. Whichever option you choose, Mid City Custom Pools is happy to help.
As mentioned, there are many things you can do in order to upgrade your pool. From adding LED lights to upgrading the pool to a new, modern design. Yet another way to upgrade your home pool that many people don't think about is looking into an in-floor pool cleaner. Pool cleaning systems have come a long way over the years, making it far easier for homeowners to own and maintain a backyard pool. In-floor cleaning systems are one of the most practical and beneficial ways to upgrade your home swimming pool. While they aren't as fancy as a new water feature or marble tiling, an in-floor cleaning system will make your life much easier, and will help with the longevity of your pool.
Where to Start with My Home Pool Upgrade?
Before we go any further, let's discuss the in-floor cleaning system upgrade in a bit more detail. For starters, Mid City Custom Pools carries Paramount, which is one of the only official installers of the PV3 in-floor cleaning system. Some of the benefits of this upgrade include:
 This in-floor cleaning system comes with a 99% cleaning guarantee

This means the pool surface area will be 99% clean, guaranteed

This is one of the only in-floor cleaning systems that is tailored to your specific needs and made specifically for your pool
We are one of the only pool builders in the DFW that keeps monthly recurring costs in mind and saves you monthly cleaning money through the in-floor cleaning system
They are a "no hoses, no equipment" cleaning system, which means you won't have to deal with a huge mess every time your pool needs a cleaning
This in-floor cleaning system is virtually invisible
It can improve circulation within your pool by mixing both heat and other chemicals
As you can see, opting for in-floor cleaning system is one of the smartest pool upgrades you can make. It will make things easier on you, and help ensure your pool is in good shape for many years to come.
With that in mind, let's look at a few additional tips for upgrading your home swimming pool:
Add LED lights or fixtures to the pool
Add new tile or marble to the area surrounding the pool
Add a firepit and enhance your entire backyard all at once
Add a tanning ledge (sometimes referred to as a Baja shelf)
Resurface your deck
Add a more efficient pool pump
These are just a few great ways you can upgrade your pool before summer hits. For more information contact Mid City Pools.