Outdoor Living Space Building Ideas (Part 2)
Mar 06, 2017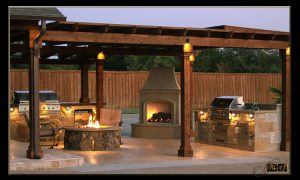 A few weeks back we discussed some of our top outdoor living building ideas, which included cabanas, pavilions, patio covers, and the Equinox Louvred Roof System. All of these outdoor structures can go a long way in enhancing your Texas backyard, as they will encourage you to spend time in your beautiful space year-round. In addition to these building structures, there are a host of other great options that are worth looking into when thinking about adding a little extra something to your backyard space.
Your backyard should be a sanctuary – an extension of the rest of your home that is both welcoming and luxurious. These days there are numerous ways to do this, allowing you to not only enhance the overall environment of your home, but its value, too. Whether you have a growing family or simply love to entertain and spend as much time outdoors as possible, it may be time to consider upgrading your living area and transforming it into something you will be able to enjoy for many years to come. Since we have already discussed some of the top building structures that may add value and aesthetics to your yard, let's look at a few additional options for outdoor living spaces that go beyond patio covers and other structures. We know how overwhelming some of this information can be, which is why we encourage you to contact Mid City Custom Pools to schedule a consultation with one of our design specialists. We will work closely with you to determine what your overall goal is, and then come up with a few different options that could fit your needs. Here is a look at some the top outdoor living space upgrades you can choose from:
Outdoor Kitchens

Perfect way to get families/friends together
Great place for grilling
Option to customize your grilling space with refrigerators, cabbage grills, griddles, etc.
An outdoor kitchen will allow you to bring the comfort of your kitchen outdoors, enhancing your overall cooking experience
Mid City Custom Pools offers all-natural stone grills and granite countertops (the same granite from your indoor kitchen will be used outside). This is an excellent way to tie the indoor kitchen with the outdoor kitchen.
Fire Pits & Fireplaces

Fire pits and outdoor fireplaces provide a great addition to any outdoor living space
Fireplaces offer more aesthetics and more frontal, whereas a fire pit is more communal, allowing families to sit around and enjoy family time
They are a cost-effective way to enjoy your outdoor living space into the fall and winter months
All Mid City Custom Pools fire pits and fireplaces are made out of custom stone, allowing you to choose the option that best fits the rest of your home and your taste
As you can see, there are numerous options when it comes to creating an outdoor living space that can be enjoyed by all, every season of the year. If you are interested in learning more about Mid City's outdoor living space services, please do not hesitate to contact us. We would be happy to discuss our various options with you and will sit down with you to ensure we come up with a design plan that not only fits your aesthetics, but your backyard space as well.