Post Rain Pool Tips
May 30, 2018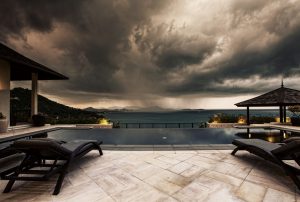 Spring has definitely sprung here in Texas, which means rain, and lots of it. While we certainly can't predict the weather, it's safe to say we will see our fair share of rain in the coming weeks. In some cases, you may have a little heads up from the local weather forecasters that a storm is on its way, but other times you may be caught off guard. If you own a pool, a heavy rain can create quite the challenge. Not only does rain often bring lots of foreign objects and debris, but it can completely throw off your pool's pH balance. Rainwater and debris can impact your pool's water chemistry, putting additional strain on your equipment.
In order to reduce any potential problems this spring and summer, it's important you know what to do in the hours and days following a heavy rainfall. Not only will your pool likely be full of leaves, dirt, dust, and other plant matter, but you may also have extra water in the pool, which can dilute the chemistry. Keep in mind that a few light showers here and there shouldn't send you into a panic, but if a big storm comes through and you don't have time to put the cover on, take the following post-rain steps into consideration:
Clean the Pool – This first one is probably common sense, but always clean your pool thoroughly following a heavy rain. Depending on the nature of the storm, you may notice lots of leaves, dust, and other debris in the pool, as well as extra water. Start by skimming the pool's surface and then vacuum the pool using an automatic pool cleaner. Once it's cleaned up, you can analyze the water chemistry and make sure all levels are correct. 

Test Your Water – The first thing you should do following a heavy rainfall is test your pool's water. It is always a good idea to double check your pool water balance, stabilizer, and sanitizer levels. This can be done with an at-home kit, or one of the knowledgeable technicians from Mid City Custom Pools would be happy to advise you.

Test Alkalinity and pH Levels – Once you test the water, check your pool's pH and alkalinity. Heavy rain can cause the pool's pH level to drop, which can also impact the alkalinity levels.

Check the Level of Water – If it rains a lot, it will, of course, add a lot of extra water to your pool. If there is too much water, you can try using your pool's "waste" setting in order to drain it. All you have to do is let the pool drain until it is back to its normal level – it's as easy as that!

Inspect Your Pool Equipment – Once you've checked all the levels and cleaned your pool, it's time to inspect your pool equipment. When there is a big storm, there is a chance your equipment may become damaged. Make sure nothing is faulty and there are no damaged machines. In the event something is damaged, contact Mid City Custom Pools and chat with one of our representatives.
There's no avoiding rain this Summer in Texas, so it's important you know how to properly care for your pool this time of year. If you have any questions about the above or would like us to come out and take a look, please do not hesitate to contact our Southlake pool builders today.