Summer is Over! Is it Time to Close the Pool?
Oct 10, 2017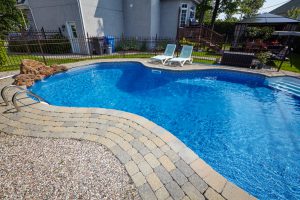 Can you believe October is almost half over with already? We sure can't! As the fall colors settle in, many people are asking if it's time to close their home swimming pool down for the season. Thankfully for us Texas residents, the answer is no. The ground typically does not get cold enough to have to shut down the pool completely for the year, which is one of the top benefits of having a pool in your backyard here. While the temperatures will drop from their summer numbers (no one's complaining here!), the good news is you will be able to use your pool year-round.
Mid City Custom Pools installs a free guard in your pool that is designed to prevent your pipes from freezing and bursting due to cold temps. This  innovative technology is imperative to the overall upkeep and maintenance of your home swimming pool, as the last thing you have to deal with is busted pipes! When you buy a pool from Mid City, it includes a freeze guard. We will work with you to ensure you understand how the freeze guard works and educate you about what to expect with your purchase in the coming years.
Don't Fret – You Can Use Your Pool Year-Round!
While many people decide to winterize and shut down their pool when summer ends and the cooler temps begin to show up, you don't necessarily have to go this route. Using energy efficient pumps (as we do here at Mid City Custom Pools), we are able to help you keep your pool open all four seasons. There are a handful of other tips to keep in mind if you do want to use your pool this winter, including:
Install a Pool Heater – This is a pretty obvious choice, but installing a pool heater is the best way to keep your water warm and prevent anything from freezing during the winter. While we typically don't need to worry about freezing temps in Hurst, this may not be a bad idea to explore if you are concerned
Stay on Top of Maintenance – This goes for every season, but it is important for you to stay on top of all your pool's maintenance needs in the winter months. This is especially true in the fall when the leaves are falling, as the last thing you want is for them to muck up your pool's filter system
Test Your Water – Another thing you must do when using your pool during the cooler months is test the water on a regular basis. Test the pH levels and monitor your chlorine levels to ensure they are in the right ranges when it gets colder out
Install Freeze Protection – As we mentioned earlier, all Mid City pools come with a freeze guard, which will save you in a major way if you plan to keep your pool open year-round
To learn more about our custom swimming pools or freeze guard option, please contact Mid City Custom Pools today. We are happy to answer any questions you may have and are here to help you maintain your pool throughout the year!