How to Avoid Algae Build-Up
Oct 16, 2017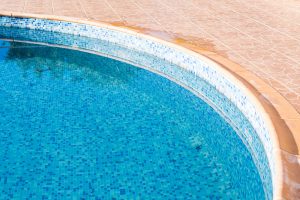 One of the biggest problems home pool owners face is algae build-up. Because algae are living marine creatures that can multiply at a rapid rate, they can be frustrating for pool owners. There are many reasons why algae may invade your pool, but one thing to keep in mind is that they need warm, sunny weather in order to thrive. Hello, Texas! Yes, because of the climate here in Texas, algae build-up is a much more common problem than in many other parts of the country. Algae spores can make their way into the pool through rain, wind, or even contaminated swimming suits and equipment. If your pool is not well-balanced, it may be ripe for an algae invasion. This is why it is so important you check your chlorine levels and make sure everything is balanced. If not, you are at a much higher risk of an algae build-up.
While algae won't harm swimmers, it is unsightly and downright annoying. Furthermore, it can be a landing place for harmful pathogens like E-coli bacteria, which no one wants to go swimming with! To prevent algae from growing in your pool, we encourage you to stay on top of your pool maintenance and give Mid City Custom Pools a call if you have any questions. We are happy to answer any questions and come out to take a look at your pool if you have any specific concerns.
Preventing an Algae Build-Up
Good news for pool owners – there are many ways to prevent and eliminate algae before it becomes a real problem! In addition to checking your pool's chlorine levels and making sure everything is balanced and in check, keep the following in mind:
Check the circulation system to make sure it is working properly – Similar to the chlorine levels, your pool's circulation system is a crucial element in preventing algae growth. Check and clean the skimmer and pump strainer baskets regularly and routinely clean your cartridge filter when the pressure gauge reads 8-10 psi higher than your normal level.
Shock the pool on a weekly basis – Get in the habit of shocking your pool on a weekly basis in order to eliminate any algae spores your other cleaning may have missed.
Get in a routine of 'brushing' the walls, floors, and steps – Pool walls, floors, steps, and any other surrounding areas are hotspots for algae growth. If left untreated, algae has a higher chance of getting into the little nooks and crannies that you may miss with regular cleaning. This is why brushing is so important! Brush the pool and its surrounding areas at least once a week to prevent algae from growing and invading your backyard oasis.
Get rid of dirt and debris with a vacuum – In addition to brushing, scrubbing, and staying on top of your pool's maintenance, we also recommend using a vacuum to get rid of dirt and debris. This will help you eliminate the majority of dirt, debris, and other contaminants that may find their way into your pool without you even realizing it.
Algae is an unwanted visitor that can wreak havoc on your pool. If you have any additional questions about how to prevent algae build-up or about chlorine levels, please do not hesitate to contact Mid City Custom Pools today.