Swimming Pool Designs for Small Backyards
Feb 21, 2019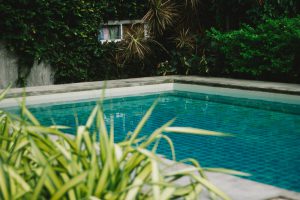 In Texas, swimming pools are quite popular. Not only do we love our time outdoors, but a swimming pool in Trophy Club is almost necessary to beat the summer heat. Just because you have a small yard, doesn't mean you have to miss out on the fun. There are certain swimming pool designs that were created with small backyards in mind. These pool designs that were created for smaller backyards will enable you to still enjoy your yard and your pool without feeling like everything was packed in. In fact, certain pool designs can actually even allude the appearance of an even bigger backyard. Keep reading to learn about the pool designs that work best in smaller backyards.
#1 A plunge pool
A plunge pool is a small, yet deep, pool that is made for cooling off, soaking, and relaxing. It is an ideal pool for small spaces. While it isn't as useful as a lap pool or a regular full-sized swimming pool, it is still a luxury and is typically a highly aesthetical addition to a backyard. While your plunge pool will create a lovely place to cool off and relax, it is also highly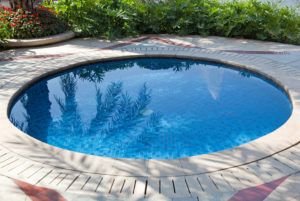 attractive cost wise. Due to the volume and smaller circumference of the plunge pool, it is less-expensive to build and to maintain.
#2 A small square pool
Small square pools can fit in whichever corner, or directly in the center of your backyard. Many people place them in the center of their yard as the focus, or right up against the house, built into the deck. The beauty is that you can decide on the size, and the classic shape will fit in pretty much anywhere. These pools work best with shallow depths, or with a solo seat/stepping stone built into the side, or around the whole square to avoid taking up too much space.
#4 A small rectangle pool
If you want to go even more classic, you can go with more of a small rectangular shape. These pools work great when they are built right into the outline of a house. You can easily fit this design into a corner or directly along the outer wall of your home and it will double as a place to relax and swim, as well as an amazingly aesthetic characteristic of your home.
#5 A spa that doubles as a pool
Many people opt for the spa that doubles as a pool, so that they can have the best of both worlds. This design allows for small spaces, as well as accommodates you in the variations of Texas's weather conditions.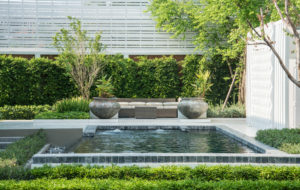 #6 A narrow lap pool alongside the houses outer wall
This is a very popular and very modern take on pool design, however it is visually stimulating and useful. A narrow lap pool that is built along the edge of your house will be a multi-beneficial option. This design will offer a place to swim laps and exercise, as well as a place to cool down and relax in the summer heat.
#7 A custom-made pool that suits your backyard
The beauty of working with our expert Trophy Club pool builder here at Mid City Custom Pools is that you can have a pool that best suits your preferences and physical backyard space. Our team will work with you to help design a pool that fits your needs and desires. If you have any questions or would like to schedule a consultation, call us today.