How to Get Your Backyard Ready for Spring
Feb 12, 2019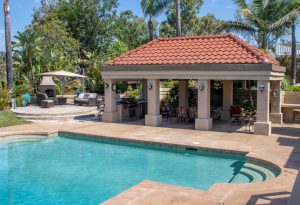 Texans love spending time on their patios, in their pools, hot tubs, etc. With each new season comes the opportunity to ready your backyard. We do a lot of outdoor living in Southlake, in which case, having your backyard up to standard is important, especially with the variance of the weather here in Texas.
While you invest so much time into your backyard, you want to uphold your investment by making it more livable season to season. Maybe you have a nice setup, a patio and seating area, but there is so much more you can do with your backyard to make it the outdoor living space of your dreams. Keep reading to learn about some of our suggestions for upgrading your outdoor space this Spring. 
#1 An Outdoor Kitchen
An outdoor kitchen is our ultimate favorite backyard addition. The benefits of having one go on and on. You will love how much time you will spend in your backyard cooking and grilling with your family when you add on the features of a kitchen to your outdoor space.
It gives you an excuse to get outside and enjoy the beautiful weather and get away from the TV and spend time with your family. An outdoor kitchen also gives you a great excuse to throw summer BBQ's and get together with your loved ones and creates a way to spend more time together, as you can cook while your kids are in the pool and your friends and family are having happy hour on the patio.
#2 A Pergola
A pergola is another awesome backyard addition to consider this spring. Pergolas add so much to your backyard in terms of aesthetics, as well as create a more enclosed partially shaded living space. If you are looking for a little bit of shade with a lot of architectural beauty, you should consider this backyard addition.
#3 A Cabana
A cabana in Southlake is a wonderful backyard feature that many homeowners add in order to beat the heat in the intense Texas sun. While we know the sun's rays can be sometimes overwhelming here in Texas, a cabana is a beautiful architectural addition that offers aesthetics and wide-spread protection from the sun.
#4 A Firepit
A firepit is a lovely addition to any backyard and is useful pretty much all year round. Whether you want to keep warm with a glass of red wine or hot cocoa in the winter, make smores with your family in the summer, or if you just want a fire pit for aesthetic purposes, it is a feature that does so much for you and your backyard.
Here at Mid City Custom Pools, we have got you covered for whatever your backyard needs may be. Our team of experts in outdoor living spaces will go over your options and preferences and help you create a backyard worthy of year-round living. If you have any questions or would like to set up a consultation, please don't hesitate to contact us today.