Why you should teach your kids to swim before summer
Jan 27, 2018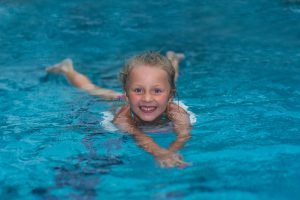 Yes, it is still winter, but the warmer weather will be coming faster than you know it. As the end of January will be coming to an end and the seasons will be changing within the next couple months, it is best to start preparing ahead of time for the warmer weather. As we know it, warmer weather means getting back outside and spending time in your backyard, as well as by your pool. So, what do we think? We think that now is the perfect time to start teaching your children how to swim before Summer comes. They will have just enough time to learn the basics, as well as practice what they learn. So, when summer finally comes around, your kids will be ready to hop on in the pool for some fun in the sun. Not only will it create great opportunities for play time for your kids, but you as a parent will have peace of mind knowing that your kids will be safe around the pool when they are playing outside. Here are a few of the reasons that you should teach your kids to swim before summer…
#1 The timing is right
Well, they've got to learn at some point [or so the experts say, and we agree]. The reason it is a great idea for your kids to start learning to swim before summer comes, is the timing of it all. It's better for you to utilize these last few months before summer to let them learn, as opposed to spending all the summer months trying. That way, your child won't miss out on any of the summer fun because they hadn't yet learned how to swim, but instead they will be one of the first ones hopping into the pool.
#2 For their own safety
One of the most important reasons that your children should learn to swim sooner rather than later, is for safety purposes. Many times, a parent fails to find an adequate reason to take the time to teach their children to swim, but the problem is, the time does come around where they will need to know how, whether it is at a friend's birthday party or when the family is hanging out by the lake or a neighbor's pool. Even if you don't expect your child to be spending a lot of time around water, it only takes one instance for a child to fall into a body of water and go under. It is inevitable that children will be exposed to water, especially during the summer months, and this is why we think it is a great idea to be prepared.
#3 To beat summer boredom
Swimming is a wonderful way to beat summer boredom. Many children have less school time during the summer months, and this means they have to find a way to be entertained. Splashing around in the pool is a fun and healthy way to spend the summer months.
If you are one of the many Texans looking to beat the heat this coming summer, you may be looking for a swimming pool builder in Southlake or Colleyville. Well, here at Mid City Custom Pools, we would love to help you out. Contact us today, and let our team help design and build you the swimming pool of your dreams.