The Best Valentine's Gift for Your Valentine
Feb 12, 2018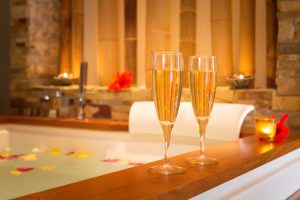 It's that time of the year again, the holiday that is all about love. You've been through all the chocolates, the jewelry, and the flowers, but maybe this year you want to do something a little bit different. So, what about a spa day? Not just any spa day, but an at-home spa day. It's a little bit different and it's a little bit unique, but best of all it's a little bit more personal, and we know your sweetheart will love it. So, let's talk about how you can plan your sweetheart an at-home spa day this Valentines'.
Setting the mood
Think calm, think relaxing, think romantic.
You can start out by planning out the treatments for the day on a home-made spa day schedule/menu, this way your sweetheart will know the treats they are in for.
Don't forget the rose petals, displays of bowls full of rose petals will set for the perfect décor.
Lay out warm fluffy towels (we are talking just out of the dryer warm), as well as a warm fluffy bathrobe and slippers.
Make sure to not forget the candles or incense, or both! We also suggest using essential oils as these really imitate the spa type sensation and atmosphere.
Have a tray laid out with yummy snacks, start out with healthy finger bites and special spa water, and finish it off with coffee and chocolates. As for how to make the spa water, there are a few options. Take a pitcher and fill it up with chilled water, add ice, and either lemon and cucumber or strawberry and mint, there are lots of delicious refreshing choices you can try.
You can also lay out some of your partner's favorite reading material for them to read while relaxing or waiting for their next treatment.
Don't forget the relaxing spa music! This is one of the most important parts of setting the spa scene and really duplicating the relaxing atmosphere.
The treatments
It's as easy as adding some essential oils to salt to create a homemade exfoliating salt rub or adding some rose petals to a warm bubble bath.
You could start out by drawing a warm bath with rose petals for your lover. This will give them a chance to get into the relaxation mode, as well as get their muscles relaxed and warmed up for the best part of the spa day, the massage. To make the bath extra relaxing, just add a few drops of essential oils (we love lavender or rose), and some regular oil (olive, coconut, almond, avocado).
Make or buy some exfoliating scrubs to massage onto your sweetheart, not only do they smell and feel amazing, but they are great for the skin.
The most important part of the home spa day will likely be the massage, because isn't a massage everyone's favorite? Pick up some massage oil, and don't forget the romantic lighting, music, and aromas as well.
Now let's get to one of the best parts of having an outdoor spa in Southlake. Have your spa heated up and ready to go. This is the perfect opportunity to serve your valentine a glass of bubbly (champagne) and now is your time to enjoy relaxing right alongside them.
We know you will have an amazing Valentine's day with these romantic ideas! And if you are interested in having a spa of your own, you may be searching for a Southlake spa builder. Here at Mid City Custom Pools, we can help. Our team is made up of trusted pool and spa experts who will make your pool dreams come true from design to dip. Contact us today, and let's get started.