The Benefits of Including a Hot Tub with a Pool Installation
Jul 09, 2021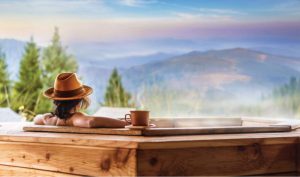 Your family is saving and planning. Now the time has come to install a new swimming pool! As you are finalizing the design, does it make sense to dedicate part of your budget to a hot tub installation as well?
When you are putting money into an outdoor oasis, it's wise to create a design that will best suit your family's needs. For example, some people are happy with a standalone swimming pool. But other families love the benefits of having a hot tub in the yard as well.
8 Benefits of Having a Hot Tub
Yes, it costs more money to install a hot tub with your swimming pool. But can you put a price tag on the benefits that come from this installation?
Here are a few of the benefits your family will enjoy when you install a hot tub with your swimming pool:
Benefit #1: Stress Management
Sometimes, a long soak in the hot tub is the perfect way to unwind after a busy day at work. When you are carrying tensions from the day, it's nice to dip into the warm water and let everything melt away.
The combination of hot water and massaging jets can help manage physical, mental, and emotional stress. Make it even more relaxing by adding other stress-reducing elements, such as low lighting and soft music.
Benefit #2: Pain Management
Warm water helps to relax tense muscles, which can help reduce certain types of pain. Some people with chronic health issues find that a hot tub is an excellent investment to ease their discomfort each day.
This pain management is great for people with arthritis or other inflammatory health conditions. Massaging and heat can reduce stiffness and soreness that contribute to chronic pain. In addition, when you spend time in the water, it reduces the weight on the joints.
Soaking in a hot tub is also an excellent option for athletes after an intense workout. Or, you might use the hot tub to warm up the muscles before exercising, helping to decrease the risk of injury.
Benefit #3: Heart Health and Blood Pressure
When you are relaxing in a hot tub, it can have the positive benefit of lowering your blood pressure and raising your heart rate. According to early research, these effects on the vascular system may be connected to helping reduce the risk of cardiovascular risk and mortality.
The benefits vary from one person to the next. It's always important to talk to a doctor to evaluate your personal health conditions. For example, hot tubs are safe for most people with high blood pressure. But your doctor can offer personal recommendations to protect your health.
Benefit #4: Weight Loss
Add regular hot tub soaks to your diet and exercise routine! It can help burn calories, which might contribute to your weight loss efforts.
Of course, the caloric burn from a hot tub isn't as good as a workout. But consider pairing the hot tub soak after your workout. Someone who weighs 150 pounds can burn up to 70 calories an hour because of the increase in temperature from the water.
Benefit #5: Blood Sugar Management
If you are working to manage blood sugar levels, using a hot tub can contribute to your diet and lifestyle changes. Researchers suggest that soaking in a hot tub can be beneficial for people with diabetic symptoms. It helps to lower blood sugar levels.
Doctors aren't clear why soaking in hot water has a positive impact on blood sugar. But it could be related to other health benefits, such as stress reduction or better sleep.
Benefit #6: Better Sleep Habits
If you have a hard time falling asleep at night, then a hot tub might be part of your bedtime routine. When you relax and soothe the muscles, it might positively affect helping you fall asleep. For example, some people like to soak, rinse off, then go straight to bed.
This research study found that people with fibromyalgia experienced improvements in their sleep quality when using hydrotherapy.
Benefit #7: Quality Time with Loved Ones
The swimming pool is a place where kids can splash around, or you can swim laps. But sometimes you want to relax with friends and family. A hot tub creates a different environment to suit your mood for the evening.
Many homeowners are glad for the investment because of the quality time they spend with their loved ones. Whether it is a holiday celebration or a casual evening, an outdoor pool and tub is an excellent place for hosting.
Benefit #8: Tax Deduction
Offset the cost of a hot tub installation by taking advantage of available tax benefits. If you have medical issues, then your doctor can prescribe a hot tub. Depending on your financial situation, using this purchase as a tax deduction might make sense. The money you pay out of pocket can be a tax deduction – but talk to your accountant for personal recommendations.
Sometimes, financial strategies are also available through insurance plans. You'll need to have written documentation from your doctor about the prescription. Plus, check with your insurance provider first to learn about your benefits.
Choosing the Best Hot Tub for Your Family
If you want to enjoy these benefits, then talk to our team about your options for installing a hot tub at your home. The possibilities are endless when you are working with a custom installation team. We take the time to understand your preferences, then offer personalized recommendations for your project.
It's easy to get started. Simply reach out to us to schedule a no-obligation consultation. Then, we'll talk to you about various designs and installation options. Together, we can create the ideal backyard oasis layout that matches your budget. For more information about these quality services, contact Mid City Custom Pools to talk to our team.