The Ideal Time for Installing a Pool
Jul 21, 2021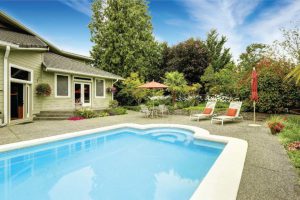 Has installing a pool been on your wish list for years? Your family will love the benefits of a backyard pool. But before you jump into the deep end, you need to make sure the timing is right.
Not only do you need to consider your personal needs when installing a pool. But it's also wise to consider the time of year. So here are a few things you need to think about when you are planning a pool installation in your yard:
Time of Year
Demand for installing a pool tends to be higher in the hottest summer months. When the weather warms up, everyone is thinking about the benefits of having a swimming pool. So, swimming pool installation teams are very busy during this time of year, influencing the price you will pay for installation.
If you want an easier time planning the installation, consider a Fall or Spring timeline. This timing can also be beneficial for your landscaping plans. For example, you can schedule more time for the landscaping to grow before the following summer.
Contractor Availability
Even if you are ready to move forward with installing a pool, you need to make sure the contractor is available. There are multiple contractors in the area – talk to these providers to find out about scheduling and timelines for installation.
It's essential that you work with a contractor you can trust. Do your research to learn more about your local options. Schedule consultations and ask for work estimates so you can compare your options.
Our swimming pool installation team is proactive about accommodating your schedule whenever possible. Reach out any time if you'd like to learn more about our availability. We'll help you create a plan that is a good fit for your unique needs.
Upcoming Events
Do you have any big events coming up in the future? Consider the timeline of your swimming pool installation and how it might affect your schedule.
For example, if you are hosting a backyard wedding reception, then you need to make sure the construction and landscaping are complete in time. A swimming pool can be a nice addition to other social events, such as family reunions or birthday parties.
On the other hand, you also want to make sure that installing a swimming pool doesn't interfere with other life events. One example is the timing of an upcoming addition to your family. If your baby is due this summer, you probably don't want to juggle a newborn and construction at the same time.
Financial Matters: Saving and Budgeting
What is your plan to pay for the pool installation? If you pay for the project out-of-pocket, you need to make sure there is enough cash in your savings account to cover the costs. Some people wait to install a swimming pool because they need more time to pay for the installation.
You can set a timeline and create a budget to help you meet this goal in the future. First, talk to our team about the estimated cost of installation. Then, you have information to know how much money you need to be setting aside each month.
The other financial consideration is accessing funding if you are planning to pay for it using credit. For example, you might need to get prequalification for a home equity line of credit or a private loan. Explore your financial options, then talk to our team to learn more about the proper timeline to match your budget.
Installing a Pool: How Long Does It Take?
Many steps are necessary for your pool installation. An inground swimming pool requires a lot of planning and preparation before you can enjoy this new feature in your yard. The overall process varies depending on the type of pool you choose.
Our team can help with your timeline estimation. We start by creating the design and additional features to match your preferences. Then, we will talk about the materials sourcing, excavation, and other considerations that will affect your timeline when installing a pool.
Each part of the pool installation can change the timeline. For example, placing the vinyl liner alone requires about two weeks for installation. But a concrete pool can require between six to eight weeks for excavation, concrete placement, and more.
Other factors can influence your timeline and include the paperwork and time needed to get a construction permit. We'll help you navigate these steps to avoid some of the typical delays that might occur with a pool installation.
Overview: Steps for a Pool Installation
Here's a quick overview to help you know what to expect when you are installing a pool:
Talk to a Pool Contractor: The first step is to schedule a consultation with our team. We'll help you finalize the ideal plan for your pool installation. Our designers offer recommendations for materials, layouts, and more. The goal is to create the perfect pool that your family will love.
Permits and Preparation: Now that you have a final pool design ready to go, it's time to get the building permits. We assist with the paperwork and steps that are required. This process varies depending on your location, so we'll help you navigate the city or town requirements. We also prepare for the installation by ordering materials and blocking the schedule. Then, our team will be ready to go when we have the "green light" on the permits.
Excavation and Installation: It's finally time to move forward! We start with any necessary demolition, such as tree removal if needed. Next, our crew brings in the excavation equipment to clear the land and prepare your yard for the installation. We have streamlined systems in place to reduce the time it takes to finish the project.
Schedule a Consultation with the Pool Experts
Are you ready to learn more about the possibilities for your pool installation? Our team is here to assist. Reach out to us at Mid City Custom Pools to discuss your options for a backyard swimming pool.