How to Throw the Best St. Patrick's Day Party
Mar 08, 2019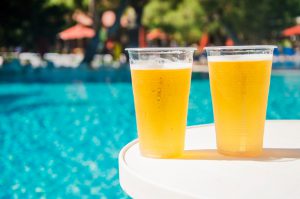 Winter is finally coming to an end, and with that comes warmer weather! While we probably won't see exceptionally hot weather for a few more months, spring is sure to bring with it weather that permits the opportunity to spend more time outdoors. St. Patrick's Day is the perfect opportunity to begin spending more time outside by throwing an exciting St. Patrick's Day Party! While the weather may not be just warm enough to enjoy the benefits of having a pool just yet, the atmosphere created simply by just owning a pool can add to the experience.
Tips to Throwing a St. Patrick's Day Party
Throwing the best St. Patrick's Day party possible is pretty simple all things considered. The holiday comes with a whole host of traditions and treats that are synonymous with the day that makes preparing to throw a proper backyard bash quite easy. Here are a few ideas and tips to execute the best St. Patrick's Day party possible:
Don't Dye Your Pool Green: While you may be tempted to dye your pool green like the city of Chicago does with the Chicago River, it would not be in your best interest. Yes, the look of your pool green would add an extra layer of excitement to your backyard party, but it does more harm than good in the long run. Adding chemicals or substances to your pool alters the chlorine and pH levels. Pools require a balanced amount of each so that your pool does not get infected with bacteria. It could also lead to illnesses if swam in or ingested. The cleanup is also difficult as your pool may be stained for good.
Green Decorations: While dying your pool water green is out of the question, that doesn't mean that you can't still invest in green decorations. There is no limit to the number or excess in decorations to your pool. If you already have a cabana or pergola, decorating it up to fit the theme is a sure way to make your party stand out. Add in pieces of gold and rainbows to hint at a Leprechaun's pot of gold.
Traditional Food: A good host always makes sure their guests don't go hungry. There are a handful of traditional festive foods to choose from to serve to your guest. From corned beef to cabbage and potatoes, there are plenty of options to choose from to feed your party. Add in special green pastries for dessert to really please your guests.
Classic Beverages: While drinking and St. Patrick's Day were not always so synonymous together, they are now as intertwined as ever and with that comes special beverages to match the holiday. Beer seems to be the most popular drink of choice throughout the holiday with many going as far as dying their beer green to commemorate the day. If you do plan on drinking beer to celebrate the holiday, look no further than a true Irish classic in Guinness!
St. Patrick's Day is a time for celebration and looks to be the first of many holidays in the coming months that boast the opportunity of throwing a proper outdoor party or event. If you are looking to spice up your future gatherings with a pool or a backyard renovation, look no further than your premier Colleyville swimming pool builders and backyard renovators. We ensure you that we will create an outdoor atmosphere fit for any holiday or gathering.