Cabana or Pergola? Which is right for you?
May 22, 2017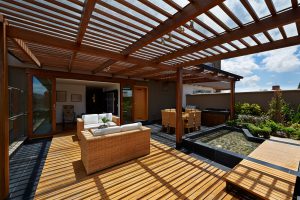 If you're looking into a cabana or a pergola for your backyard, you might at this point be wondering, what exactly is the difference? The biggest difference between the two, is the coverage, or, the amount of shade provided. Where a pergola will give you about the same effect as if you were sitting under a large oak tree, a cabana will provide you with complete shading from above. Pergolas are large structures with beautiful and innovatively-designed architectural features. They stand on wood or stone-built columns, and are either freestanding or built into the home. The roof is open-faced, with wooden beams crossing overhead; this allows a bit of sunlight to still make its way into the region below.
Another difference between the two, is that pergolas tend to be a bit more maintenance than cabanas, as they require staining and sealing every 2 to 3 years. Optionally, some people prefer to also cover the roof part of the structure with a type of clear or tinted polycarbonate to add extra protection from the weather elements. When built into a home, pergolas are great for extending the living space while also gaining an out-door seating area, or depending on what you like, even an outdoor cooking area, or an outside bar.
As you know, summer is here, and if you are trying to escape the Texas heat while still enjoying your outside area, then the shade and comfort of a cabana might be what you need. Whether you are wanting to enjoy the sun without the sunburn, watch the kids swim in the pool, or even if you just love sitting outside and listening to the rain during a summer thunderstorm, then a cabana is perfect for you. No matter what time of the year, cabanas can give you a cozy or a shaded outdoor area that will help you get the most out of your backyard. Cabanas are freestanding structures that are built on even-sets of columns, with a full-coverage roof. They are great for adding an outdoor living space, kitchen, fireplace, bar, dining area, etc. Many times, they are accented with light fixtures, ceiling fans, heating features, fireplaces, TV's, refrigerators, grills, etc., to enhance the beauty and usability of your outdoor-living feature. The materials used to construct the cabana can be mimicked of those used for your house, or other backyard features, to increase the aesthetic appeal even further.
Cabanas and pergolas are both beautiful and useful additions, that add value to your home and enable you to enjoy your backyard many more months out of the year. Especially in Texas, where the sun can be a bit grueling, and the weather in general can be a bit unpredictable, it's nice to know that a cabana has 'got you covered.' So, if you're in the area, and you are looking for cabanas or pergolas in Southlake or Colleyville, here at Mid City Custom Pools, contact us today so we help you find the right out-door structure for you and your backyard.