Throwing the Best Back to School Pool Party
Aug 06, 2019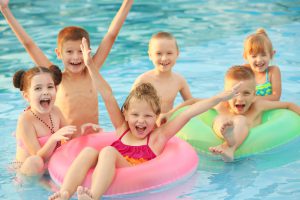 Get Your Kids Ready for the School Year With a Pool Party
It's that time of year again. Summer is finally winding down, and school is about to start. Many kids are about to start preparing to go back to school. However, summer isn't quite over yet. The weather is still warm, so kids still have a chance to enjoy the remaining days of their summer. Parents, let your kids celebrate summer one last time by throwing a Back to School Pool Party!
This gives you the perfect opportunity to let your child enjoy their summer while also getting them ready for the upcoming school year. Mid City Custom Pools is here to help you throw the best Back to School Pool Party possible! Remember, it is always important to keep the safety of everyone as your top priority.
Choose a Theme
Every great pool party has a theme. That's what makes them fun! You can never go wrong with choosing a popular movie like the Avengers, Star Wars, or any new Disney movie that has recently come out. Many younger children will love this.
However, since you are planning a back to school party, you can always have that be the theme. It is simple and easy to do. Decorate pool noodles to look like number two pencils or rulers. You can also encourage the partygoers to bring school supplies to donate to other children who may not have the resources to get these supplies.
Plan Activities for the Kids
Once your theme has been chosen, you can now plan plenty of activities to keep kids busy. While the pool offers plenty of fun on its own, it is always good to have activities outside of the pool for kids who don't want to swim. Some activities include:
Tag. If you have enough space outside of the pool, tag is always a fun and active game for kids.
Musical Chairs. While this may be more fun for younger children, it can still keep kids entertained.
Water Balloon Fights. Some kids may not want to swim, but they may still want to play water games. Water balloon fights are great at keeping kids active and cool.
Lawn games. There are plenty of fun lawn games that both parents and kids can enjoy, including cornhole, croquet, ring toss, and more.
For those in the pool, Mid City Custom Pools has provided a list of fun and safe pool games to play.
Have Fun, Healthy Food
How can you have a successful pool party without food?!
Finger foods and appetizers are some of the best pool party foods since they don't always fill you up or are overly messy. There is nothing wrong with firing up the grill to cook some burgers, hot dogs, and some vegetarian options, but you can't go wrong with some healthy finger foods for the kids.
Offer Plenty of Refreshments
Always have plenty of water and fruit juices on hand to keep everyone hydrated. Even though school is starting soon, chances are the weather will still be warm. You should always keep yourself and the children hydrated. Staying in the sun for too long can dehydrate you and be dangerous. Also, if there are adult guests, you can always offer some adult beverages or allow them to bring their own. However, you don't want to overdo it. Swimming intoxicated is highly dangerous.
It is never too late to throw the perfect summer pool party. With your kids getting ready to go back to school, the time to throw a Back to School Pool Party is now! There are plenty of fun and exciting ways to ensure your party is a success. Mid City Custom Pools is here to help you with any pool safety needs and concerns to ensure your party goes off without a hitch.