Tips for Throwing a Galentine's Day Pool Party
Feb 09, 2023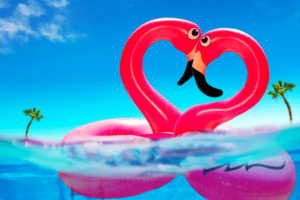 While Valentine's Day is traditionally a time to celebrate romantic relationships, many women also like to celebrate Galentine's Day this month: a time to show their love and gratitude for the close friends in their lives. Do you have a day planned to get together with your friends for a girls' night out?
The idea of celebrating Galentine's Day became popular because of Leslie Knope, from the television show "Parks & Recreation." Now, the trend has caught on across the country and many women are using Galentine's Day as an excuse to create fun memories with their friends.
Are you planning to host a Galentine's Party at your home this year? If you have a backyard pool, then it's an excellent place where you can have the party. Even if the weather is cool, it's still fun to bring out the heat lamps, turn up the pool heater, or chat together in the hot tub.
Here are a few best practices to ensure that you have an enjoyable Galentine's Day celebration with your friends:
Plan a Theme
Having a theme gives you guidance as you are choosing decorations, designing the invitations, and planning the food. You might stick with a simple and obvious theme: Galentine's Day. Then, choose Valentine's themed decorations, such as flowers, chocolates, and balloons. It's common to stick with the traditional colors of red, pink, and white.
Or, you might think outside the box and pick another theme, such as a white party where everyone dresses up in white. Or, a tropical theme to bring a little sunshine to the cooler months of the year.
Planning a theme is a great way to hold onto the vision for your party. Plus, everyone can participate when they know the theme in advance.
Send the Invitations
Build the excitement for the upcoming party by sending out invitations. If you want to take things to the "next level," then design cute invitations that you drop in the mail or send digitally.
These festive invitations set the tone and help people feel the energy of your dream pool party. Look for ways to make the invites vibrant, fun, and unique so you are helping your friends feel the excitement before the party gets started.
On the invitations, send important information including the location, time, and date for your Galentine's Day party. At the same time, you might include a note about things they should bring to the party. For example, invite attendees to bring a swimsuit and towel if you are planning to soak in the hot tub or swim as part of the party activities.
Don't Skimp on Decorations
One of the best ways to bring the "wow factor" is by going big with the decorations. Go crazy with the flowers, balloons, streamers, table décor, and anything else that will make it beautiful and special.
Of course, decorations depend on your budget. But, even if you are on a tight budget, you can still maximize your available cash by getting balloons and streamers at the dollar store.
If you have a little more to spend, then it's fun to bring in fresh flowers, tiki torches, palm trees, and anything else that will make the décor memorable for everyone in attendance.
Serve Delicious Food
There's no question that good food plays an important role in the overall quality of a Galentine's Day celebration, or any other party for that matter. Delight your guests with delicious appetizers and finger foods, then have something tasty planned for the main dish as well.
If you don't have the time or desire to cook, then consider picking up takeout from your favorite restaurant or hiring a caterer to take care of the food.
Another option is to host a potluck Galentine's Day party. Many people are happy to contribute to the party by bringing a salad or dish to share with the group. You might choose a theme for the potluck, such as island flavors. Or, keep it open-ended and be surprised at the many tasty options that show up.
Potluck parties are a great option if you are planning this event with a tight budget. For example, you might invite others to help with the food, then spend your budget on the decorations instead.
Plan Fun Drinks
Beverages are another detail that will make-or-break a party. The simplest solution is to have a cooler filled with soda, water, seltzers, and beer. Or, you could plan a cocktail (or mocktail) bar where everyone can mix their favorite drinks.
Another option is to have a BYOB note on the invitation. This method allows everyone to bring their drink of choice. As the host, it's a good idea to keep everyone hydrated with plenty of water on hand.
Do you want to use the drinks as a fancy way to add décor to the table? Then consider using glass serving jugs, with water infusions that have fresh fruit and/or mint. For example, a jug of ice water with lemon slices, cucumber slices, raspberries, and fresh mint not only looks beautiful, but it also tastes delicious!
If your Galentine's Day pool party is happening in the evening, then you might choose to serve hot drinks to help everyone stay warm. Tea, hot chocolate, and coffee are all great options that everyone will enjoy.
Buy Fun Pool Floats
Everyone loves an Instagram-worthy photo, and fun pool floats offer the picture-perfect opportunity to capture the moment. Look for girly blowup pool toys, such as unicorns, rainbows, flowers, and anything else that fits your party theme.
Even simple tubes can be fun when you pick the right colors. Guests will love posing with the pool floats, and the various colors in the pool will bring a festive feel to the celebrations as well.
Is Your Backyard Pool Ready for Hosting a Party?
One of the best things about having a backyard pool is that you can host fun parties throughout the year. Whether you are planning a Galentine's Day celebration, or getting friends and family together for a different celebration, these tips ensure that you will make it a fun and memorable experience for everyone involved.
Do you want to invest in a backyard swimming pool this year? Then call Mid City Custom Pools for personalized recommendations.