Beat the Spring Rush by Scheduling a Pool Installation Now
Mar 15, 2023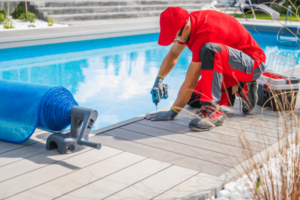 Have you always had the dream of installing a backyard swimming pool to share with family and friends? A private swimming pool installation is a great way to turn your yard into a personal oasis: a place where you can have fun and relax at the same time.
Because of the weather, spring and summer tend to be the busiest times of year for pool installation. If you don't want to wait to enjoy your new pool, then right now is the best time to get started with the installation. Our team at Mid City Custom Pools is here to help, offering personalized support and full-service installation.
Pros and Cons of Pool Installation Throughout the Year
It's smart to consider the season when you are planning your pool installation. There are pros and cons to every season, and our installation team can offer personalized recommendations to help you select the ideal solution for your unique needs.
Spring Pool Installation: Often, the assumption is that a springtime installation is the best time of year because the weather is starting to warm up. If you finish the installation in the spring, then it means that you can enjoy your new pool throughout the summer. Most of the time, installation teams are busiest in the spring and early summer months, which is why you shouldn't delay if you are considering these services this year. One potential drawback to a spring installation is that there could be scheduling delays depending on weather patterns.
Summer Pool Installation: It's no surprise that summer is also a busy season for pool installation. Since the weather is ideal for construction, most installation teams have a full schedule throughout the season. If things are too busy, then you might need to wait until the end of the summer before the installer has time to work on your project. The drawback to a summer project is that your yard will be under construction during this time, and you might not be able to enjoy the pool until the next season.
Fall Pool Installation: The weather tends to be stable during the fall months, and installation teams start to slow down during this time of year. Because of the weather conditions and installation availability, fall can be an ideal time to optimize a simple and faster installation process. Similar to a summer project, one of the drawbacks of installing a pool in the fall is that you might not be able to enjoy the new pool for several months because you'll need to wait for the weather to warm up.
Winter Pool Installation: Demand is the lowest during the winter months, which means you might be able to get a better deal if you move forward with pool installation during this time. Talk to our team to learn more about pricing for labor and materials so you can see your options for a winter project.
There are different factors to consider when you are preparing for a pool installation. If you are excited about enjoying this backyard feature, then don't delay a consultation with our team. Get started right away so you don't have to wait during the busiest seasons of the year.
Planning the Perfect Pool Installation for Your Backyard
The planning phases are essential to ensure that your new pool is the perfect fit for your preferences and family goals. Keep in mind that planning an installation takes a bit of time and effort. You won't be able to move forward with the installation until you finish these planning steps.
Here are a few tips to consider when you are designing the right pool for your property:
Evaluate Your Yard: Look at the size and shape of your yard to ensure that the pool matches the overall layout of the property. You might have pre-existing features to work around, such as garden beds, trees, and other landscaping features. While rectangular pools tend to be the simplest and most common, you might choose a different shape instead based on the slope and shape of your yard.
Consider How the Pool Will Be Used: What is the primary use for the pool area? If you have kids in the house and expect to have frequent pool parties during summer break, then the design of the pool will be different compared to someone who wants to use the space to swim morning laps. When you understand your motivations for installing the pool, then you are better prepared to create a design that matches your unique preferences and desires.
Functional and Aesthetic Details: Not only do you need to make sure that the pool looks good, but there are many other functional details to consider as well. For example, some of the features are designed for safety and protection, such as a good pool cover and a robust filtration and water cleaning system. It's essential to ensure that you are protecting people and the overall structure of the pool at the same time.
Landscaping Around the Pool: In addition to installation costs for a swimming pool, there are other associated costs for design and landscape around the pool. Make sure to have a budget to put in a patio or cement around the pool. As well as plants, shrubs, trees, and bushes. Also, many pool owners want to have nice patio furniture, such as sunbeds and tables to improve the overall experience while using the pool.
Personalized Recommendations for Planning a Backyard Swimming Pool
If you haven't been through the process of planning and installing a swimming pool before, then it's essential that you tap into the expertise available from a local installation company. Our team is here to answer your questions and offer personalized recommendations for your new swimming pool.
Reach out to schedule your free consultation. We will discuss your goals, talk about different design options, consider your budget, and help you plan the ideal swimming pool that will look great in your yard.
Call us any time for more information about available services. Contact our pro team at Mid City Custom Pools today.