What are the Benefits of Having a Combined Pool and Hot Tub?
May 10, 2023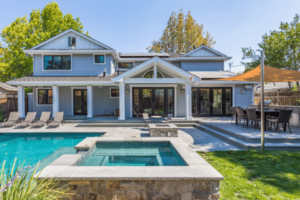 When you are preparing to install a pool in the backyard, then consider the benefits of a design that also includes a hot tub. Many homeowners have an inground pool and above-ground hot tub. But there are a few great reasons why you might consider a combined pool and hot tub for your home.
If you have the space and resources, then it makes sense to design the installation for every activity. A pool and hot tub combination is a great way to have fun with games and entertainment in the pool, as well as a dedicated area where you can relax and unwind in the hot tub.
How Popular is a Combined Pool and Hot Tub?
The concept of a pool and hot tub combination was introduced in the mid-90s. When this idea came into the industry, it quickly gained popularity because homeowners didn't want to choose between a pool or hot tub – they wanted both.
Another name for this combination of a hot tub and pool is an attached spa or spillover spa. The design allows you to enjoy the pool and then move into the hot tub, without needing to get out and walk to a different part of the yard.
Design Considerations for a Pool and Hot Tub Combo
Typically, swimming pools are located in the ground. So, the installation team will dig a hole, then place the swimming pool so the surface of the pool lines up with the ground level. These inground swimming pools can be constructed using fiberglass, plaster, concrete, vinyl, and more.
On the other hand, most hot tubs are above ground. You can buy a premade hot tub that is brought onto your property and typically sits on top of a concrete pad or deck.
Benefits of Combining the Hot Tub and Pool
Why should you plan an installation that includes a pool and hot tub in one? Here are some of the reasons why homeowners often choose this design with an inground swimming pool that has an attached hot tub:
No Separate Water Test: It's essential to stay consistent with regular testing so your pool is always safe and hygienic. When you have a separate pool and another hot tub, then it requires two water tests. On the other hand, a combined design simplifies the testing process because both systems basically share the same water. So, you can save time and money on water testing.
Various Activities: Whether you are having a quiet evening at home or hosting friends and family, it's nice to have the option for different types of activities. Some people want to have fun with games and high-energy activities in the swimming pool. Other people want to relax and have a good conversation in the hot tub. A combined design makes it easy for everyone to select the activities of their choice.
Boost Property Value: Different features on your home have an impact to increase property value. There's no doubt that a private hot tub and pool in the back yard is a luxurious feature. So, many people will be willing to pay more money when they are buying the property because of these unique features.
Hot and Cold Water Combo: Spa experts often recommend switching between hot and cold temperatures. It's believed that the shift in extreme temperatures is beneficial for health and promotes better circulation. A combined hot tub and swimming pool allows you to enjoy these health benefits as often as you prefer.
Space Saving: Do you have a limited amount of space in the back yard? Choosing a combined design helps you maximize available space. It can take a lot of space to build the hot tub and pool separately. If you combine them by including the hot tub with the pool, then you can enjoy the benefits of both, even if your space is limited.
Are There Any Drawbacks to a Combined Design?
While the benefits of a combined hot tub and pool are undeniable, there are a few potential drawbacks you might want to consider. As you are finalizing the design and preparing for pool installation, it's important that you research both the pros and cons to ensure that you are making an informed decision.
For example, one potential drawback is that the installation is more complex. Since hot tubs typically come with pre-fabricated designs, they are usually simple to install because you just need to buy the hot tub and then set it up at your home. On the other hand, a combined layout requires both the pool and hot tub to be built on-site. So, an attached hot tub will take more time to install, and it might be more expensive due to the cost of materials and labor.
Also, think about the maintenance and utility costs going forward. Hot tubs run at a higher temperature, which means that it requires a higher use of electricity to maintain the ideal temperature at all times. So, an attached hot tub tends to be more expensive compared to the ongoing costs of a standalone swimming pool.
Remember that different chemical compositions and chlorine requirements are necessary for swimming pools vs. hot tubs. As a result, it's necessary to be careful about maintaining the right water treatments for both systems.
It's common for the pool and combined hot tub to share a pump. There can be benefits to this shared system because you only have one pump to maintain. But if this pump goes out, then it means that both the pool and the hot tub are unusable until the system is fixed.
Choosing the Ideal Swimming Pool Installation for Your Home
Is a pool and hot tub combination the right solution for your upcoming installation? Every family and property are unique, which is why there isn't a one-size-fits-all solution for everyone. The best thing you can do is schedule a consultation with the pool installation experts to learn more about your options.
At Mid City Custom Pools, we offer personalized pool design and installation services for every client. We invite you to schedule a consultation so you can get customized recommendations and design the ideal pool installation plan for your home.