Plan a Spring Pool Party to Celebrate Warm Weather
Apr 13, 2023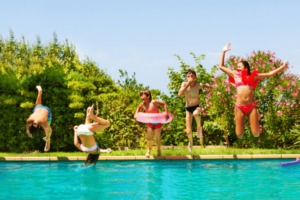 When the weather starts warming up, the first thing that comes to mind is that it's time to get the backyard pool ready for the season! Even though summer isn't here yet, the sunshine is a great invitation to plan a spring pool party.
A backyard pool party is the perfect way to share a good time with friends and family. You don't have to go anywhere to have an enjoyable experience! The benefit of a backyard pool is that you can use it whenever you want!
As you are pulling out your swimwear and inviting people for your spring pool party, there are a few things you can do to ensure your pool is ready for the festivities:
Spring Pool Party Maintenance
Follow these tips when opening your pool at the beginning of the season:
Remove debris from the cover before opening the pool.
Use a skimmer in the water to remove any debris that has collected inside.
Prime the filter pump and make sure everything in the pump and filtration systems are connected.
Turn on the water filtration system to get rid of any impurities.
Add water so the levels are optimal.
Test the pH balance and make adjustments.
Consider a chlorine shock treatment to kill any bacteria or algae that might be present.
Turn on the pool heater so the water is at a comfortable temperature.
If needed, install features that were removed during the winter, such as the diving board, ladders, etc.
Not only do you need to do these things to open the pool for the season, but you also need to be ready for regular maintenance throughout the summer. These seemingly small tasks make a big difference in protecting the quality of your swimming pool and ensuring safety for everyone participating in your pool parties.
Festive Additions for a Spring Pool Party
In addition to preparing the swimming pool and water, there are things that you can do to ensure that your guests have a great time during your spring pool party. Pay attention to the party decorations, food, and other details that will make it an enjoyable experience.
Here are a few ideas:
Poolside Bar: Providing fun drinks can be the perfect way to lighten the mood. Drinks can be as simple as cans in a cooler. Or, you might have a cocktail or mocktail bar where guests can order custom drinks (or mix their own). A Shirley Temple or Virgin Pina Colada (Pinada) is the perfect answer for guests under the age of 21.
Finger Foods: Snacks are always in order, especially if you want people to hang out for a while. Simple ideas include chips and dip, veggie trays, fresh fruit, cookies, sandwiches, and more. Or you can plan a nicer meal by grilling up steaks, chicken, hamburgers, or hotdogs poolside. If you are trying to save money or don't have time to plan the food, consider making it a potluck party and invite everyone to bring something to share with the group. As the host, ensure you provide plates, forks, cups, and napkins.
Music: Set up a speaker and pick your favorite playlist for this spring pool party. If you are planning a big party, bringing in a DJ who can manage the music and match the crowd's mood might be a good idea. Professional DJs also bring other equipment to set the mood, such as light effects.
Photos: Don't forget to snap some photos and videos throughout the day. You want to capture the fun memories you share with friends and family. If you want to take the spring pool party to the next level, consider setting up a photo booth with fun props that people can use in the pictures.
Decorations: Add a little bit of color to brighten up the patio! Streamers, balloons, decorative cups, and plastic tablecloths look great. Check a local party store. Or you can even find fun decorations at the dollar store if you are on a budget.
Lights and Heat Lamps: If you are planning the spring pool party in the evening hours, then make sure to have the proper lighting to set a nice tone for the guests. Mood lighting makes it fun and beautiful. Additionally, heat lamps on the patio can help people feel more comfortable if the temperatures are too cool after the sun goes down.
Floatables: Bring in a few blow-up toys, such as lounging mats, tubes, or inflatable animals that children (and adults!) can play with in the water. Not only are they fun to have, but the bright colors also make the spring pool party feel more festive.
Games: Keep your guests engaged and having fun by planning a few games for the party. For example, you can have a miniature boat contest where people race the boats on the water. Or, buy a big pack of glow sticks and have the children dive to retrieve the sticks from the bottom of the pool. Search online to find more pool game ideas for people of all ages.
Are You Ready for a Backyard Swimming Pool Installation?
If you don't already have a swimming pool installed, this year might be the perfect time to invest in this upgrade for your home. Even though the installation won't be done in time for a spring pool party, you can enjoy your new swimming pool later in the season. Get started right now so that you have enough time to plan a pool party before the weather starts cooling down again later this year.
A backyard swimming pool is a fun feature that creates the ideal environment to share with friends, family, and neighbors. It's convenient to have a place to host a party without the need to go to another location.
Our team at Mid City Custom Pools offers customized pool installation services. Reach out to us at your convenience to schedule a consultation so we can learn more about your goals. We'll help you pick the perfect features and design elements to create the ideal pool for your family.