What Permits Are Needed for Pool Construction?
Sep 28, 2020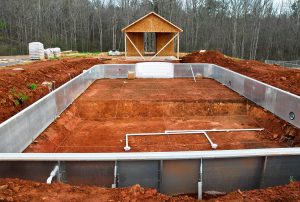 You Need Several Permits to Complete Your Pool Construction
Building a pool is a complicated process with a lot of moving pieces. Finding a pool builder that you trust to bring your dream pool to life is only the first step. Often, it's the easiest step outside of enjoying your pool once it is complete.
From designing your pool to finally laying down gunite, pool construction can take anywhere from 6-10 weeks. However, plenty of things can impact this construction and delay the completion date. What was supposed to last just several weeks may now take several months. While an experienced pool builder can still work around these delays, they cannot always prevent them.
One vital aspect of pool construction involves acquiring permits. You cannot build a swimming pool without obtaining the appropriate approvals. As we said earlier, pool construction is a complicated process. A lot of parties have to be involved in order to ensure your pool is correctly and safely built. These permits ensure that.
However, getting ahold of these permits is a process on its own. Some contractors can get them for you, but others, you need to get on your own. If you do intend to build a pool in the near future, it pays to know what kind of permits you need to get to speed up your pool installation.
If you are ready to get starting on your dream pool, give the expert pool builders at Mid City Custom Pools a call today.
What Permits are Required?
For one reason or another, homeowners avoid notifying their county or city about their plans to build an in-ground swimming pool. Maybe, they did not know they were supposed to get approval from the city, or they just wanted to avoid any hassles. After all, there are fees, regulations, and inspections required for pool permits. Additionally, pools might increase their property tax.
Regardless of the reason, far too many people fail to let their county or city know their plans. All areas of the country require a homeowner to apply for and pay for a permit if they are installing a pool that is deeper than 24 inches before they can even begin pool construction. The fees are minimal in comparison to fines for not notifying your local government. Plus, the oversight you receive is invaluable.
Remember, when you apply for a permit, you always need to include your plot plan. This plan is a detailed diagram of what your backyard (or other property) will look like with your pool. It should contain measurements and location. This plan will help an inspector determine if your property is large enough for a pool of the size and style you chose.
Each county or city will have a department responsible for handling construction permits, such as the ones needed for pool building. Obtaining this permit is the first step in building a pool. However, there are plenty more permits you will need to get during construction.
Each area is different, so not every county or city requires the same things. Some of the most common permits you need to complete pool installation includes:
Electrical
Most pools require some form of electricity to function correctly. After all, the filtration system needs to run in order to keep the pool safe and clean.
Most cities or counties require that electrical work be done by a master electrician who is licensed within the city or county limits in accordance with the National Electrical Code. Usually, however, the electrician you hire for the job should take care of obtaining the appropriate permit you need for electrical.
Plumbing
This permit comes as no surprise. Obviously, a pool of water will involve some form of plumbing. Water has to be directed to and from this amenity. Installing plumbing is one of the first steps in the pool building process.
As with electrical, all plumbing work should be done by a plumber that is registered within the city or county limits and follows the International Plumbing Code. Again, the contractor you hire for the job should be able to get the plumbing permit you need.
However, an inspector cannot complete an inspection if the area is too wet, which is often the case after rain. Inspectors must wait until the ground is dry, which could take several days.
Gas
For gas lines installed for a swimming pool, you also need a separate air pressure gauge to verify the pressure. Most gas tests must utilize a diaphragm gage that an inspector must test and verify. Depending on the rules of the city or county you reside in, the contractor you hired for the job will get the permits and inspection you need to move forward with pool installation.
Pools with a heater will need a more thorough inspection to ensure that the heating system works safely.
Homeowners Association (HOA)
While the contractors you hired from the job can get most permits on their own, it is your responsibility as the homeowner to get approval from your local Homeowners Association (HOA).
Each HOA operates differently, so you need to reach out to yours to learn what steps you need to take to get approval for your pool construction.
Drainage Inspection
Before construction can begin, a pre-drainage inspection must be completed, approving the drainage and access plan you submitted with your plan review. However, near the end of construction, you also need a final drainage inspection.
At the time of this inspection, all drain lines and dirt work must be complete. You must also complete any installation of permanent vegetation before you can receive your final drainage approval. This drainage is necessary to show how you plan on draining wastewater from your pool safely into a waste pipe.
Steelwork
Before you can place any concrete or gunite, the steelwork and electrical bond must be inspected and approved. If this steelwork is not sturdy and sound, it could spell disaster for the rest of the pool. This steelwork includes the belly steel that gives the pool its shape and is the foundation for gunite and the deck steel that concrete goes over to create the deck surrounding the pool.
Pool construction requires a lot of hard work and involves many different parties. You cannot just start building a pool without getting the necessary permissions and inspections. While these might seem like a hassle, they exist to ensure that your swimming pool is expertly constructed and is safe to use. If you want to get started building your own pool or want to learn more about the required permits, give Mid City Custom Pools a call today.